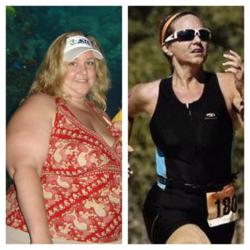 My favorite part of my new career is taking clients to compete in their first event. There is something very emotional that happens every time you cross the finish line
Austin, Texas (PRWEB) December 19, 2012
At the age of 40 this busy mom of 3 with a full time career knew she needed to make drastic changes to get her health in order. She lost her mother at age 56 to ovarian cancer. Ovarian cancer can be hard to diagnose but when you are overweight the symptoms can be easily missed or overlooked.
Karan set a goal on her 40th birthday to run in the Danskin Triathlon and spent the next year putting her plan into motion starting with a Couch to 5K program. When she began her training she could not run for one minute without gasping for air. Participating in events became her catalyst for staying focused. As she began to learn more about nutrition and fitness she felt compelled to help others find their way to health through lifestyle changes and support. "I never intended to start a business," said Karan Duncan, Owner, Fitfanatic Wellness LLC "but what started as a Facebook page for people to share their challenges, successes and advice has changed the direction of my family's life." Her entire family is involved in the new business and actively living a healthier lifestyle.
At first when people starting noticing changes, it took Karan off guard. Many people didn't recognize her after her transformation and in the beginning it upset her. After so many people took notice and asked what she was doing, she realized she could use her experience to help others.
As a corporate training and development manager with over 15 years experience it only seemed natural to bring these passions together and move training from the board room to the gym. The skills and experience she gained in the corporate environment have helped immensely in her new endeavor as a Health Coach and business owner.
Karan completed her training at the Institute for Integrated Nutrition and completed her personal training certification through National Academy of Sports Science. Most recently she was certified to teach P90X, her strength program of choice.
"My favorite part of my new career is taking clients to compete in their first event. There is something very emotional that happens every time you cross the finish line," she commented.
Since Health Coaching partnerships can be in person or virtual, Fitfanatic Wellness has clients from Las Vegas to Virginia. With over a dozen Triathlons and a half marathon under Karan's belt since 2010 she is gearing up for the 2013 season and looks forward to taking others with her as her company begins it's second year in business.
Fitfanatic Wellness LLC offers in person and virtual personalized training and coaching services to help busy people realize their health and fitness goals. Additionally, Fitfanatic Wellness LLC presents workshops and lectures on living a healthy lifestyle.