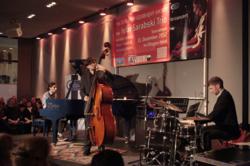 Isfar's playing is more than just music – his performances are a landmark event for listeners
Berlin, Germany (PRWEB UK) 17 December 2012
Azerbaijani piano star Isfar Sarabski, aged 23, gave two barnstorming concerts in Berlin on 13 and 15 December, the first of which was for jazz fans from the world of politics, sponsored by The European Azerbaijan Society (TEAS), the second being for listeners of JazzRadio Berlin. The concerts came hot on the heels of his performance at the annual Jazz Loft Party in New York, organised by the Jazz Foundation of America, co-hosted by Danny Glover, where he shared the bill with such jazz legends as Lou Donaldson, Junior Mance and Randy Weston. He also recently gave a remarkable concert at the Azerbaijan State Philharmonic Hall in Baku during the annual Baku International Jazz Festival.
The first concert, 'Winter Jazz and Politics', was given close to Checkpoint Charlie at Kunztschule, one of Berlin's most recently-opened event locations. Located in the former Michaelsen Palais, constructed in 1904, this was attended by around 300 people. Isfar Sarabski, who won the Montreux Solo Jazz Piano Prize in 2009, performed for nearly two hours, accompanied by Makar Novikov (bass) and Aleksandr Mashin (drums). The concert focused on Sarabski's own compositions, including 'New Age', 'Novruz', which featured the microtones found in Azerbaijani mugham music, and the remarkable funky 'G-Man'. Other pieces included his delicate interpretation of Harold Arlen's 'Over the Rainbow', an inspired arrangement of themes from Tchaikovsky's 'Swan Lake', featuring Mashin's ecstatic drumming, and Victor Young's serene 'Beautiful Love'.
During the introduction Leslie Nachmann, Chief Presenter, JazzRadio Berlin, said: "Isfar's playing is more than just music – his performances are a landmark event for listeners. He was a worthy winner of the Montreux Solo Jazz Piano Prize in 2009, and we are proud to have him as a guest of TEAS and JazzRadio Berlin."
The second concert was given in the 1920s Ellington Hotel for an extremely appreciative audience of around 120 listeners to JazzRadio Berlin. Sabina Rakcheyeva, Cultural Advisor, TEAS commented: "Isfar Sarabski is one of the youngest, yet most well-known jazz musicians in Azerbaijan. During the past three years, his concerts in Berlin have been very successful. Isfar has now performed on many European stages and at various jazz festivals to wide acclaim." Isfar's trio was clearly inspired by the audience, particularly with his rhapsodic conclusion to 'G-Man', and the breathtaking speed of 'Buta', another of his compositions. His version of the romantic 'Oblivion', by Argentinian composer Astor Piazzolla, provided Isfar with the opportunity to demonstrate another side of his skills. The concert concluded with a standing ovation, followed by an encore of his blues-influenced 'Insurance Salesman', which became increasingly frenetic and exciting.
Both concerts gave ample opportunities for Isfar and his trio to demonstrate their formidable abilities in one of the leading European jazz capitals.