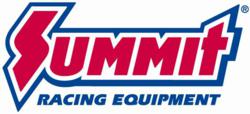 Tallmadge, Ohio (PRWEB) December 17, 2012
Summit Racing Equipment now offers two new engine and drivetrain packages for the Factory Five Mk4 Roadster replica kits. Developed by Summit Racing and Factory Five tech experts, these packages not only fit perfectly in a Mk4 Roadster, they take the guesswork out of choosing compatible parts for maximum performance on the street or the autocross course.
Summit Racing Factory Five Mk4 Roadster 306 Combos
These combos are an affordable alternative to the 427 cubic inch 351W used in the original Summit Racing/Factory Five Mk4 built by SKJ Kustoms.
The 306 Engine Combo is based around a 340 horsepower Ford Racing 306 crate long block. Other major components include:

Summit Racing Street & Strip® Stage 1 Intake Manifold
Holley 670 cfm Street Avenger Carburetor
MSD 6AL Ignition
Aeromotive Electric Fuel Pump and Regulator Kit
The 306 Transmission Combo includes a Ford Racing Super Duty T-5 transmission, bellhousing, and flywheel, a Ram HDX clutch kit, clutch fork, and fasteners.
The 306 Accessory Combo includes the parts needed to finish the engine: Powermaster starter, March pulley kit, Summit Racing alternator and air cleaner, water neck, oil dipstick, wire looms, and a timing pointer.
LINK TO COMBOS: http://www.summitracing.com/search?keyword=factory%20five%20306&dds=1
Summit Racing Factory Five Mk4 Roadster 5.0L Coyote Combos
The centerpiece of this package is Ford Racing's 5.0L Coyote crate engine, which puts out 412 horsepower and 390 lbs.-ft. of torque. The included Control Pack makes it easy to get a 5.0L up and running. Other components in the 5.0L Coyote Engine Combo include:

Moroso Oil Pan and Oil Pump Pickup
Vortech EFI Fuel
• AEM EFI Fuel Pressure Regulator

Powermaster Starter
Ford Racing Alternator Kit, Intake Manifold Cover, and Speedometer Adjuster
The 5.0L Coyote Air Intake Combo includes the tubing and MAF sensor adapter required to route an air intake from filter to manifold, plus a K&N filter element. There is also a Fitting Combo with the fittings needed to complete the fuel system.
The 5.0L Coyote Transmission Combo features a Ford Racing Cobra R Tremec five-speed transmission and bellhousing, a Centerforce clutch kit, throwout and pilot bearings, and a clutch fork.
LINK TO COMBOS: http://www.summitracing.com/search?keyword=factory%20five%20Coyote&dds=1
Summit Racing Equipment
http://www.SummitRacing.com
1-800-230-3030
About Summit Racing Equipment
Established in 1968, Summit Racing Equipment is the leading high-performance parts and accessories company in the world. Summit Racing offers the largest selection, best prices, and best customer service in the high-performance industry via catalogs, Internet, and Retail Super Stores. The company is headquartered in Tallmadge, Ohio with retail locations in Tallmadge, Ohio; Sparks, Nevada; and McDonough, Georgia.