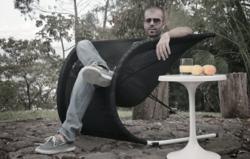 Suzak is revolutionary in that it is going to change seating in today's world.
Medellín, Colombia (PRWEB) December 17, 2012
The newest, up-and-coming designer chair company, QSTO, has hired digital marketing agency, Command Partners to carry out all online marketing initiatives including the company's Kickstarter campaign for its latest chair, Suzak.
Suzak is today's chair. With unique features, such as comfort, versatility, customization and more, Suzak can fill anyone's seating needs. The designer chair is extremely unique in that its spandex-like fabric allows Suzak to adapt to multiple seating positions. Want to relax? Just sit back and Suzak will adapt.
Suzak sets itself apart from the everyday chair by offering customization options for any user. There are six different color options for each of the three separate elements of the chair, the frame, cover and shock cords. With this many color options, Suzak now becomes more versatile and can accommodate seating needs anywhere, whether it be a living room, on balcony or at an outdoor football game.
"Suzak is revolutionary in that it is going to change seating in today's world," says Daniel Aristizabal, co-creator of QSTO. "...and Command Partners was a clear choice to lead this campaign because of their proven, successful track record."
Command Partners specializes in crowdfunding projects and has a 100% funding success rate for all of their Kickstarter clients' projects. The agency brings speed, efficiency and high-level strategic guidance to QSTO and has what it takes to successfully raise the $25,000 needed to bring Suzak to the market.
"What we have here is today's chair, made for the people, by the people. Without a doubt, this product is something the Kickstarter community is going to support," says Amish Shah, Managing Partner of Command Partners. "We have the team to take this chair to the top and position it as a market leader."
The Suzak chair and other rewards for funding the project are now available here on Kickstarter: http://bit.ly/SuzakKS. Exciting rewards range from $1-$250 and the project's crowdfunding campaign will run until Wednesday, January 16 at 2:45PM EST.
About QSTO
QSTO is a new company, founded by Jose Manuel Carvajal and Daniel Aristizabal, that believes chairs today have not evolved enough. Designer chairs are often expensive and will not adapt to the lifestyles of today's market. QSTO believes in simple, affordable and easy-to-use design that has more to offer than simple beauty. To find out more information on the company, visit http://QSTO.com.co, Follow them on Twitter @QSTOdesign and Like them on Facebook.
About Command Partners
Command Partners is a digital media agency that focuses on driving online visibility and lead generation including social media marketing, search engine optimization, public relations and strategic advisory services. Command Partners works with clients ranging from high-tech startups and e-commerce brands to Fortune 500 companies. The agency is located in Charlotte, North Carolina and works with clients around the globe. For more information on Command Partners' services, visit http://www.commandpartners.com and Like them on Facebook.