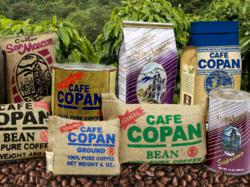 "Our coffee and gift baskets can be purchased online by visiting www.shopcopan.com"
Tomball, Texas (PRWEB) December 20, 2012
Honduras has a reputation of producing the best quality of coffee throughout the Central America. Premium Roasted High Grown Honduran Coffee has been the most preferred choice for the coffee lovers over the years. The same timeless flavor of premium quality Honduran coffee is now available in the United States, courtesy of Shop Copan. This online coffee shop is a Beneficio Maya company that offers several top of the line coffees including Café Copan original and San Marcos Supremo. As many as seven distinctive flavors of specialty coffees including vanilla, hazelnut cream, chocolate Swiss, etc. are also available in Shop Copan.
Café Copan is grown in the shady areas at a high altitude and is known for its smooth and mild flavor. It has been the top choice for gourmet coffee lovers, and considered to be the ideal accompaniment for breakfast or lunch. Shop Copan offers Café Copan in their traditional burlap bags, mini burlap bags and decorative wooden boxes, starting from only $5.50. The San Marcos Supremo Coffee available at Shop Copan is grown at the company's own plantation grounds at an altitude of 4000 ft. Coffee lovers love San Marcos Supremo because of its distinctive flavor. Shop Copan also accepts bulk orders for different food service operations and offices.
The Coffee baskets from Shop Copan can be extremely popular amongst coffee lovers as a gift item. These beautifully decorated gift baskets offer the finest quality of hand picked coffees including whole bean, dark roast, regular roast, etc. In talking about the company's commitment towards producing premium quality HG coffees, a senior spokesperson from Shop Copan said, "We are dedicated to producing coffee in an environmentally, economically and socially sustainable manner. We understand how crucial the growers and pickers are to the quality of the coffee, and we maintain a personal relationship with the small producers and their communities. We believe you will be able to taste the differences in our Premium Roasted Honduran Coffees. Contact us today to learn more or to place your order."