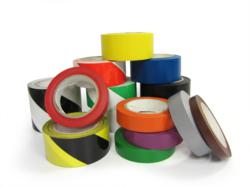 "We enhanced the visibility of our pipe messages by using the pipe banding tape. It created more awareness of the pipes content and flow."
Lake Oswego, OR (PRWEB) December 21, 2012
Safety awareness is critical when working in industrial settings such as factories that require chemicals and pipes along with other hazardous fluids and gases to manufacture and operate each day. Creative Safety Supply is now offering a simple and affordable solution to make sure employees and maintenance staff are safe from possible pipe bursts that could create a gas explosion. Pipe markers and pipe marking banding tape are used to color code pipes throughout the facility identifying the pipe's content and flow of direction. Besides promoting safety among the workplace, the pipe markers are also an enhancement to keeping order in the work environment. Staff and employees that do not perform close to each other will not be confused on the locations of pipes and what they contain.
Essentially, all businesses are required to abide with safety laws mandated by the government. The laws state that marking pipes properly and in the clearest manner possible as well as other equipments is absolutely necessary in order to prevent unnecessary accidents in the workplace. Pipe markers helps maintenance staff and emergency responders work safely and efficiently around piping systems. Pipe banding tape is a great addition to pipe markers. By placing pipe marking tapes close to the markers will highlight and make the pipe marker very visible to the eye. By using both pipe markers and the pipe banding tape will doubly enforce the pipe message.
Pipe banding tape can also wrap around edges of pipe markers to help prevent peeling and extend useful life of the labeling system. It is ideal for use when piping changes direction or goes through walls, ceilings or floors. The solid color pipe band provides a full 360 degree pipe color code visibility to improve operation safety and plant efficiency. A plant superintendent commented, "We enhanced the visibility of our pipe messages by using the pipe banding tape. It created more awareness of the pipes content and flow."
For more information about pipe marking tape, please visit http://www.creativesafetysupply.com or call toll-free (866)777-1360 to speak with a professional representative.