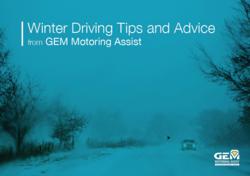 (PRWEB UK) 19 December 2012
The build-up to Christmas is a time when many of us will drive long distances to be with family and friends. It's also a time of extra stress, which - combined with lengthy journeys and unpredictable conditions - can make for dangerous travel.
That means it's time once more to pay extra attention to conditions on the road. GEM Motoring Assist (http://www.motoringassist.com) has created a manual for winter driving, including important advice in case of breakdowns, tips for driving in the snow and travel checklists.
Free for anyone to download, it provides information about:

driving safely in snow, fog and hail
car maintenance during winter months
driving abroad, especially in ski locations
techniques for dealing with hazards like black ice and aquaplaning
The eBook also debunks various myths of driving in winter, and is such is an invaluable resource to any motorist.
GEM is committed to providing quality information and advice for all motorists. Celebrating its 80th Anniversary this year, it has a reputation for being a trusted source of support for its members. It has a long history of campaigning for road safety legislation and is responsible for supporting some of the major reforms to road safety.
Download the GEM Winter Driving Tips and Advice eBook here: http://www.motoringassist.com/winter-driving