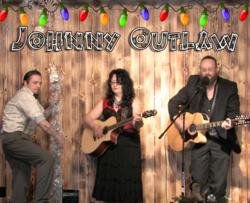 This is the first time they [Johnny Outlaw] has recorded Christmas music. I mean, they have recorded music in the past, but never Christmas music. I have never heard Christmas music like this; I just love what they are laying down today
Thomson, IL (PRWEB) December 17, 2012
The band Johnny Outlaw is a "hickabilly" band on the rise, according to Bob Whitten. After he booked the band to play a few acoustic Christmas tunes in the Heirloom Market & Café, Whitten and Bill Heid, owner of the Heirloom Market & Café, loved the music and set out to get Johnny Outlaw in a recording studio to lay down a track for the "Silent Night" song they showcased on the Old Time Heirloom Hour.
The band Johnny Outlaw originated in Clinton, Iowa. The four person band consists of John Doyle, Jen Doyle, Jim Walters, and Ryan "Jessie" Costello. These four have been writing and playing music for years, but the recording is something fairly new to them.
"This is the first time they [Johnny Outlaw] has recorded Christmas music. I mean, they have recorded music in the past, but never Christmas music. I have never heard Christmas music like this; I just love what they are laying down today," says Whitten.
Whitten first brought the band to The Heirloom Market and Café on September 22, 2012 for the Melon Days Fall Festival. Throughout the day, they played with local bands and even a band out of Nashville, Tennessee.
One of the members of the Nashville band, Travis Jerome, made it a point to tell Whitten and Heid, "This band is really something special. The passion that they have for music really resonates with them. Good musicians have the ability to just turn it on and immerse themselves in the music. These guys have that." Jerome is the President and CEO of Quadraphonic Music Group as well as a writer and producer at Red Vinyl Music.
"Johnny Outlaw is an up and coming band – they are going places quickly and we are glad to be helping them get to the next level," said Whitten. "It was just fun being a part of it all."
This is the first time The Heirloom Market and Café has done a studio recording for a band.
The brand new track, "Silent Night," by Johnny Outlaw is available for free download at http://www.TheHeirloomMarket.com/johnnyoutlaw.html. Heid said, "It is the Christmas season. We don't want to charge anyone for this song; we just want to give people a Christmas song they can enjoy and give Johnny Outlaw some added recognition that they deserve."