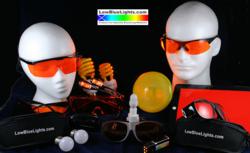 University Heights, OH (PRWEB) December 20, 2012
The standard treatment for seasonal affective disorder (SAD) or the winter blues is to expose the eyes to bright light for about a half an hour first thing in the morning. This has been demonstrated to advance the start of the flow of melatonin to an earlier hour. By starting earlier it finishes its flow earlier. Thus solves the problem of too much melatonin in the morning. For some people the idea of sitting in front of a bright light first thing in the morning is unpleasant and simply not practical. There is also concern it might damage the eyes (macular degeneration).
In 2001 (1) it was discovered that the flow of melatonin is controlled primarily by the exposure of the eyes to blue light or the blue rays in ordinary white light. The most modern light boxes, used to treat SAD, use blue light. Exposing the eyes to light in the evening prevents the flow of melatonin from starting. By wearing glasses that block blue light allows the flow to start (2). The average time for melatonin to flow (if the person is in darkness) is 11.4 hours according to a recent study (3). Putting on glasses at 7 P.M. should allow the flow to be over by 7 A.M. With melatonin gone, you may wake up feeling happy, without need for an alarm clock. Because the glasses only block blue light there is plenty of light to read or carry on normal evening activities. For those who don't like to wear glasses, light bulbs that don't produce blue light are available as are filters for iPads, iPhones and other screens.
The glasses that block blue light are also great for improving sleep and curing insomnia. Putting on the glasses a few hours before bedtime means lots of melatonin is present at the time one goes to bed. This makes it easy to fall asleep quickly and sleep is deeper because the body temperature is lower. The whole body has been informed by the presence of melatonin, that it is time to rest, and rebuild. Maximizing melatonin may also reduce both the risk of breast cancer and prostate cancer and also of the spread of the cancer to other places. This is according to a very recent paper (3) from Tulane University in New Orleans. Studies of cultured cancer cells and human cancers grafted to rats, but provided with human blood, showed melatonin both reduced cancer growth and reduced metastasis (spread of cancer).
The glasses that help sleep and have so many health benefits are sold at http://www.lowbluelights.com (owned by Photonic Developments LLC) were developed at John Carroll University in 2005. Light bulbs that don't make blue light and filters for iPads and iPhones and computer and TV screens are also available as are copies of Dr. Hansler's books "Great Sleep! Reduced Cancer!" and "Heroes of Cancer Prevention Research".
(1)
J Neurosci. 2001 Aug 15;21(16):6405-12.
Action spectrum for melatonin regulation in humans: evidence for a novel circadian photoreceptor.
Brainard GC, Hanifin JP, Greeson JM, Byrne B, Glickman G, Gerner E, Rollag MD.
(2)
PLoS One. 2008 Aug 26;3(8):e3055.
Individual differences in the amount and timing of salivary melatonin secretion.
Burgess HJ, Fogg LF.
(3)
Mol Endocrinol. 2012 Nov;26(11):1808-20. doi: 10.1210/me.2012-1071. Epub 2012 Sep 21.
Circadian Gating of Epithelial-to-Mesenchymal Transition in Breast Cancer Cells Via Melatonin-Regulation of GSK3β.
Mao L, Dauchy RT, Blask DE, Slakey LM, Xiang S, Yuan L, Dauchy EM, Shan B, Brainard GC, Hanifin JP, Frasch T, Duplessis TT, Hill SM.