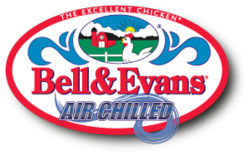 There is no reason for gluten-allergy sufferers to miss out on all the holiday happenings in the kitchen.
Fredericksburg, PA (PRWEB) December 18, 2012
As more restaurants across the country are striving to accommodate a growing number of Americans with gluten and wheat allergies, Bell & Evans continues to lead the market with a complete line of entrees and snacks that ensure great tasting, gluten-free foods are available at home.
Scott Sechler, owner of Bell & Evans, says there is no reason for gluten-allergy sufferers to miss out on all the holiday happenings in the kitchen. Not when Bell & Evans offers a complete line of frozen gluten-free entrees and snacks – including breaded chicken breast nuggets and tenders; boneless, skinless breaded chicken breasts; and breaded chicken patties.
"And of course, all Bell & Evans fresh chicken and turkeys are 100-percent gluten free," he adds. "With Bell & Evans, you can have a very gluten-free holiday.
"I'm here to tell you that you can have a gluten-free holiday," Sechler says. "There are excellent recipes for everything from gluten-free stuffing to gluten-free gravy. And when it comes to desserts, your choices just get better."
Sechler recommends http://www.celiaccentral.org/holiday as an excellent starting point for all of your gluten-free holiday research.
Because much of the cooking this holiday season – especially all those cookies and cakes – likely includes wheat flour, every celiac family should discuss the importance of diligence and safety in the kitchen. "Crossover contamination can be very serious," Sechler explains.
At Bell & Evans, producers of The Excellent Chicken™, extreme care is taken to ensure that the company's range of gluten-free products adheres to the strictest standards. In fact, Bell & Evans processing is closely monitored to less than 10 parts per million, where the industry standard is 20 parts per million. "It is crucial that gluten-free ingredients remain completely separate from other ingredients," Sechler says, "so your holidays remain happy ones."
All Bell & Evans gluten-free products are produced at the beginning of each shift, and only after all processing equipment has been thoroughly sanitized.
Additionally, Bell & Evans trains all production workers in the safe handling of allergenic materials. All ingredients delivered to the plant are identified by allergen, tagged, then segregated from other ingredients and packing materials.
"All Bell & Evans chickens are raised without antibiotics throughout their life," Sechler says. "They receive no antibiotics and no growth hormones in the feed, the water or even the egg... ever.
"If someone in your family suffers from Celiac disease, you can enjoy the same quality, taste and convenience of our breaded chicken products with complete confidence."
For more information, visit http://www.bellandevans.com or visit on Facebook at http://www.facebook.com/bellandevans.