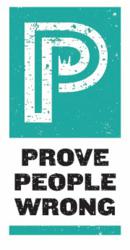 Stow, MA (PRWEB) December 19, 2012
Prove People Wrong (PPW), a motivational apparel company has now expanded to provide media services. The company recently released interviews with NHL star James van Riemsdyk, U.S. Soccer legend Kristine Lilly, and Jacob Rainey, a high school quarterback who lost his leg, beat the odds and returned to the field.
"We receive touching stories on a weekly basis from people who have overcome issues with sports injuries, bullying, health issues, and more. Our goal is to provide motivation by presenting the inspirational stories of recognizable individuals who have overcome doubt to reach their goals. We want to create a dynamic and supportive web community where stories can be shared and viewed by all PPW fans," says Director of Marketing, Jared Antista.
Prove People Wrong, founded by four aspiring hockey players in 2011, represents a message that is quickly spreading throughout the United States. "We believe that with hard work and effort, people can overcome any obstacles and reach their goals," says Co-Founder Charlie Ackerman.
If you are in need of a little extra motivation or looking for some cool apparel to show off your Prove People Wrong mentality, check out their store at http://www.provepeoplewrong.com.
Promo Code PRWEB1 will earn you 25% off anything in the store as a Holiday special!