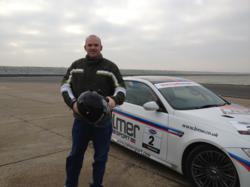 As a very happy participator I have got to say it was awesome! Excellent organisation and a first class service - Well done and thank you very much.
Milton Keynes, United Kingdom (PRWEB UK) 17 December 2012
Personal and business leasing specialist LeasePlan Go has recently given away a BMW M3 Driving Day at the Bedford Autodrome Circuit to three lucky winners of their first ever social media competition.
The winners were treated to a high speed BMW M3 Driving Day at Bedford Autrdrome on Wednesday 13 December 2012. The weather was cold and crisp on the day, but thankfully dry, giving participants the perfect driving conditions to sample the phenomenal power of the BMW M3.
The three winners and their guests were treated to breakfast and a safety briefing with professional drivers, before being led to the track to sample the delights of one of BMW's fastest models.
The BMW M3 is one of the most impressive cars in the manufacturer's 3-Series range, featuring a powerful 420hp V8 engine which gives the car an eye-watering top speed of 155mph.
Once suited and booted the team powered around the Autodrome track, pushing the BMW M3 to its limits, with two team members from Moran Construction, Milton Keynes winning the fastest lap times overall.
Each participant was then driven around the track in an F1-style finale lap by their instructor, showcasing the car's true potential.
After their exhilarating experience the winners were then given a hands on tour of the incredible Bedford Autodrome Workshop, courtesy of Palmer Sports. The afternoon finished with a delicious lunch, before the winners headed for home.
Michael Craig one of the winners commented: "As a very happy participator I have got to say it was awesome! Excellent organisation and a first class service - Well done and thank you very much."
A spokesperson for Moran Construction adds: "A big thank you to LeasePlan Go for inviting us to Bedford Autodrome for a BMW M3 experience, great day out."
Simon Carr, Brand Director of LeasePlan Go commented: "We're delighted to hear that the winners had such a fantastic time at the BMW M3 Driving Day. We'd like to extend our thanks to Palmer Sports, who helped provide our guests with such an amazing experience that'll live long in the memory."
Business leasing experts LeasePlan Go ran the competition through their Facebook page and Twitter channel throughout November, encouraging people to share their content to stand a chance of winning. The winners beat hundreds of hopeful applicants to win the BMW M3 Driving Day experience.
For further information please call Chris Smith, LeasePlan Go Marketing Manager on +44 (0) 1908 364114 or email chris(dot)smith(at)leaseplan(dot)co(dot)uk.
About LeasePlan Go:
LeasePlan Go is a division of LeasePlan UK Ltd and part of the LeasePlan Corporation NV, the world's largest vehicle management and leasing provider. With operations in 30 countries and managing over 1.3 million vehicles worldwide, LeasePlan has developed a trusted reputation for delivering market leading solutions to its clients.
With over 20 years experience LeasePlan Go specialise in working with businesses operating small to medium sized fleets of between 1 and 100, and consumers who are looking for an established and trusted personal leasing provider.
Benefitting from the buying power, support and systems infrastructure of LeasePlan UK Ltd, LeasePlan Go are focused on providing a fast, efficient and friendly service to all their customers.
Copyright © 2012 | LeasePlan Go and the LeasePlan Go brand are a trading styles of LeasePlan UK Limited which is authorised and regulated by the Financial Services Authority in respect of insurance mediation activities only.