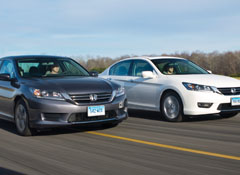 "Honda missed the mark with other redesigned models in recent years, but it nailed this one," said Jake Fisher, director, Consumer Reports Auto Test Center.
Yonkers, NY (PRWEB) December 20, 2012
With a roomy interior, frugal fuel economy, a fun-to-drive character, and an attractive combination of features and price, the Honda Accord has given Consumer Reports testers convincing evidence that Honda may be back on track.
The new four-cylinder Accord now tops its class, edging out the Hyundai Sonata and Camry, while the V6 model is challenging the Camry Hybrid and V6 Camry for the top spot in Consumer Reports ratings.
"Honda missed the mark with other redesigned models in recent years, but it nailed this one," said Jake Fisher, director, Consumer Reports Auto Test Center.
Consumer Reports tests found the new Accord to be a very fuel efficient and well-rounded sedan. Its 2.4-liter four-cylinder engine, matched with a smoothly operating continuously variable transmission, squeezes out an excellent 30 mpg overall and 40 mpg on the highway. The 3.5-liter V6 is super smooth and quite powerful, snapping off a 6.3-second 0-to-60 mph time that beats some sports cars. And its 26 mpg overall is better than many four-cylinders.
Inside the cabin, the Accord offers one of the best driving positions available in its class, with excellent visibility and comfortable seats. Upper-level versions have Honda's LaneWatch system which uses a camera to display what lurks in the car's passenger side blind zone. CR found this gimmicky and distracting, especially since there is no warning for cars on the driver's side.
The full report and road test results are available at ConsumerReports.org on December 18th and in the February issue of Consumer Reports on newsstands December 27. Updated daily, ConsumerReports.org is the go-to Website for the latest auto reviews, product news, blogs on breaking news and car buying information. Check out CR's ongoing Twitter feed at @CRCars.
While Consumer Reports previously tested the revamped Chevrolet Malibu's mild-hybrid Eco version, this group included a conventionally powered Malibu with the 2.5-liter four-cylinder engine. Consumer Reports engineers found it to have a plush ride, quiet cabin, and reasonable 26 mpg. With better handling and acceleration, this Malibu scored notably higher than the Malibu Eco. But its $26,030 sticker is high for the class and the rear seat is snug for a family sedan.
Subaru updated the 2013 Legacy, tweaking its suspension and giving it a new engine and continuously variable transmission (CVT). Consumer Reports found the Legacy to be spacious and nicely equipped, with good fuel economy given the standard all-wheel-drive. But while the handling of this new version is a little crisper, it comes at the expense of the previously cushy ride. The unrefined CVT accentuates engine noise, which also cost the car points in Consumer Reports testing. Overall, Consumer Reports found the new Legacy isn't notably better, only different.
The Accord and Legacy are Recommended by Consumer Reports; the Legacy has had above-average reliability and we expect the same for the Accord, based on its good track record. While the Malibu scored well, it's too new for Consumer Reports to have sufficient reliability data
The Hyundai Santa Fe Sport and Subaru XV Crosstrek SUVs were also recently tested by Consumer Reports. The stylish, midsized Santa Fe Sport was notably upgraded for 2013. Tests found it offers good fuel efficiency, a composed ride, a spacious cabin, and an impressive array of features for the money. But a few shortcomings, notably vague steering and limited visibility, keep it mid-pack in Consumer Reports' Ratings.
Consumer Reports found the Crosstrek, which is based on the Subaru Impreza hatchback, poses convincingly as a miniature SUV. Its raised ride height provides 8 inches of ground clearance, on par with "real" SUVs. While no rugged off-roader, it's more than a match for deeply rutted muddy roads. Fuel economy is impressive at 26 mpg overall, but acceleration with the CVT feels a little sluggish when it first gets underway. The engine sounds raucous when revving, which it has to do a lot. Road noise adds more racket.
The jacked-up ground clearance and stiffened suspension take a toll on agility and ride comfort. "Most buyers should stick with the higher-scoring Impreza Sport that costs $2,000 less," Fisher said.
Consumer Reports is the world's largest independent product-testing organization. Using its more than 50 labs, auto test center, and survey research center, the nonprofit rates thousands of products and services annually. Founded in 1936, Consumer Reports has over 8 million subscribers to its magazine, website and other publications. Its advocacy division, Consumers Union, works for health reform, food and product safety, financial reform, and other consumer issues in Washington, D.C., the states, and in the marketplace.
The full report and road test results are available at ConsumerReports.org on December 18th and in the January issue of Consumer Reports on newsstands December 27th.
-- 30--
Consumer Reports has B-Roll from its testing track available upon request of the Honda Accord, Chevrolet Malibu, Subaru Legacy, Hyundai Santa Fe Sport and Subaru XV Crosstrek.
FEBRUUARY 2013
© 2012 Consumer Reports. The material above is intended for legitimate news entities only; it may not be used for advertising or promotional purposes. Consumer Reports® is an expert, independent nonprofit organization whose mission is to work for a fair, just, and safe marketplace for all consumers and to empower consumers to protect themselves. We accept no advertising and pay for all the products we test. We are not beholden to any commercial interest. Our income is derived from the sale of Consumer Reports®, ConsumerReports.org® and our other publications and information products, services, fees, and noncommercial contributions and grants. Our Ratings and reports are intended solely for the use of our readers. Neither the Ratings nor the reports may be used in advertising or for any other commercial purpose without our permission. Consumer Reports will take all steps open to it to prevent commercial use of its materials, its name, or the name of Consumer Reports®.