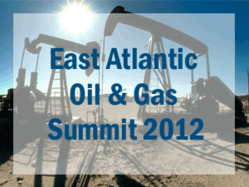 East Atlantic Oil & Gas 2012 Summit
London, UK (PRWEB UK) 18 December 2012
The East Atlantic Oil & Gas 2012 Summit was held on 3rd and 4th December at Pestana Palace and National Monument in Lisbon, hosted by global summits organiser, International Research Networks.
Governmental officials, senior executives and professors from 85 international organisations operating in Portugal, Morocco, Spain and Mauritania attended the event.
The main topics discussed were the current hydrocarbon situation, exploration potentials, opportunities and challenges, licensing and crucial tools for improvement in Portugal, Mauritania, Spain and Morocco.
The summit highlighted the huge potential of hydrocarbon exploration throughout the region; Morocco, Mauritania and the Iberian Peninsula being the areas currently attracting the most global interest. Hosna Mustaphi, from the Ministry of Energy and Mines, Morocco, explained the current situation and opportunities around the exploration in Morocco. Stephen Whyte, the CEO of Galp Energia, announced that the company is going to be involved in the Moroccan oil exploration.
Ahmed Salem Tekrour, the Director of Petroleum from the Ministry of Oil and Gas in Mauritania, elaborated on the Developments in Mauritania oil and gas exploration while Max Torres, the Exploration Director from Repsol YPF Spain explained the great potential of hydrocarbon exploration and growth in the Iberian Region.
The 2nd East Atlantic Summit will return again in December 2013.
More information can be found on the event website http://www.eastatlanticsummit.com and the dedicated LinkedIn Group 'The Oil & Gas Network.'