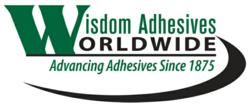 "While Wisdom Adhesives Worldwide has grown to be a highly competitive leader in the global industrial adhesives market, our company remains grounded in The Wisdom Way: our Customers, Employees, and Communities worldwide are our most valued assets, just a
Elgin, IL (PRWEB) December 18, 2012
Wisdom Adhesives is now Wisdom Adhesives Worldwide. The name change reflects Wisdom's rapidly growing importance in supplying premium adhesives to the global packaging and converting markets. Since 1875, Wisdom Adhesives Worldwide, the longest continuously operating adhesives manufacturer in the world, has been advancing the technology of adhesives. Five consecutive generations of the Wisdom family have provided the company's leadership, and today they are still exceeding the expectations of worldwide customers at the speed of sound. In this age of global entities, Wisdom Adhesives Worldwide stands out as a company of real people working person-to-person in order to respond to the needs of each and every industrial adhesives customer—and doing it fast.
"While Wisdom Adhesives Worldwide has grown to be a highly competitive leader in the global industrial adhesives market, our company remains grounded in The Wisdom Way: our Customers, Employees, and Communities worldwide are our most valued assets, just as they were when my great great grandfather, Phillip Wisdom, founded our company in 1875. Whether our customers are in the United States, Canada, Mexico, the Caribbean, China, India or other burgeoning markets, Wisdom Adhesives Worldwide delivers innovative, safe and competitive products at a fair price. " states Jeff Wisdom, Chief Executive Officer and fifth generation owner of Wisdom Adhesives.
Wisdom Adhesives Worldwide is a global supplier of environmentally safe and compliant water-based and hot melt adhesives to industrial users. Wisdom manufactures water-based resins, dextrins, PSAs and acrylics; hot melt EVAs, PEs and PSAs; protein adhesives and reactive products. The wide range of industries Wisdom Adhesives Worldwide serves includes packaging, converting, bookbinding, graphic arts, tissue and towel, product assembly, textiles and general purpose. Wisdom Adhesives Worldwide is known for globally responding to customer needs faster – often with a 24-hour turnaround – than any other company in the industry, providing high-quality products and personalized service second to none.
For more information, call 847.841.7002 or visit http://www.wisdomadhesives.com. Wisdom Adhesives Worldwide is headquartered at 1575 Executive Drive, Elgin, IL 60123
###