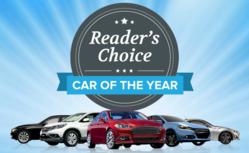 Toronto, Canada (PRWEB) December 19, 2012
"Polling readers, as well as the over 30 million monthly visitors on the over 360 automotive forums that make up the AutoGuide.com network, the Reader's Choice Awards are about letting consumers pick their favorite new vehicles," said AutoGuide.com Editor-in-Chief Colum Wood. "By reaching out to car shoppers as well as to the enthusiasts on our many forums, we're able to take the pulse of what vehicles really resonate in the marketplace."
Taking top honors is the Tesla Model S, which took home the overall Reader's Choice Car of the Year award, as well as awards in the categories of Luxury Car of the Year and Green Car of the Year.
In the remaining three categories, the Ford Escape was voted Reader's Choice Crossover of the AutoGuide.com Year, while the Acura RDX took home the hardware for Reader's Choice Luxury Crossover of the Year. Finally, in the performance category, the Subaru BRZ garnered the most votes to win the Reader's Choice Sports Car of the Year.
About AutoGuide.com
AutoGuide.com, a Verticalscope property, is a new car shopping consumer resource site and the flagship of the AutoGuide forum network comprising over 360 vehicle and manufacturer enthusiast sites. According to independent audience measurement agency, comScore Media Metrix, AutoGuide.com the network ranks 3rd in monthly audience size among all automotive resource websites.