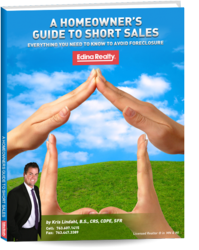 Now, with the help of my trusted team members, we can hold several of these seminars a week in different cities
Albertville, MN (PRWEB) December 17, 2012
On Saturday night a member of the Kris Lindahl Team of Edina Realty held a short sale seminar in Albertville, Minnesota. "There has been a calling from several of my clients in Albertville to hold a seminar closer to their homes for their friends and family looking for this sort of information," Kris Lindahl said, and continued, "I was holding a seminar on the Wells Fargo bank process on Saturday so I sent a trusted member of my team to Albertville to present the information."
The seminar held in Albertville was filled to capacity. "The value of the information we are passing on to these people cannot be understated,"a member of the Kris Lindahl Team said. Kris Lindahl has announced that there will be many more of these seminars in cities across the state of Minnesota in the coming weeks and months.
"Before it was just myself holding these seminars and I could only do one to two a month. Now, with the help of my trusted team members, we can hold several of these seminars a week in different cities,"Kris Lindahl says.
"We're expanding our short sale seminars to cities outside the Twin Cities," Kris Lindahl said. "I recognize the need for this sort of information outside of the Twin Cities and I and members of my team will be holding more of these seminars every week around the Twin Cities and outlying areas."
Call Kris Lindahl and the Kris Lindahl team for more information at (763) 607-1415. Visit the Kris Lindahl Edina Realty Website and check your short sale eligibility at the Minnesota Short Sale Calculator website. Download the free eBook titled "A Homeowner's Guide To Short Sales".