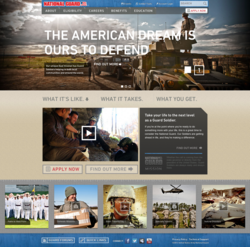 (PRWEB) December 19, 2012
After conducting extensive market and audience research, Nashville-based marketing agency iostudio launched a redesign of http://www.NATIONALGUARD.com, the official website of the Army National Guard (ARNG). By adding and improving upon existing content and streamlining the user experience, iostudio has both simplified the application process and made online ARNG lead processing more effective. The redesign of NATIONALGUARD.com makes it the first military site to implement responsive Web design.
iostudio's strategy revolved around creating easy-to-navigate paths for potential recruits, helping them quickly arrive at the information they need, and ultimately directing them to the online enlistment application. In order to do so, iostudio consolidated many of the elements from the original ARNG website, placing the most relevant information up front and making regular use of engaging content such as photo galleries, videos and articles to expand upon the site copy. In the interest of intuitive navigation, all content is divided neatly into three categories: What It's Like, What It Takes and What You Get. Through their research, iostudio learned that almost all potential recruits are searching to answer one of these three questions, a fact that played an integral role in the final strategy.
The redesigned home page (pictured here) features three prominent sliding banners that address each of the three categories, as well as category introductions and videos like the one included here.
From there, users can easily locate most-searched information (About, Eligibility, Careers, Benefits, Education), along with additional compelling content like Soldier Stories.
Potential recruits interested in beginning the application process may do so online through the Path to Honor Web-based application system, and can chat live or by phone with an expert via iostudio's in-house ARNG call center. Upon completion, applicants are automatically pre-screened, and eligible candidates are forwarded for application completion.
"What truly distinguishes the redesign of NATIONALGUARD.com is its implementation of recruitment strategy, integrating smart design and development with our live customer care center to optimize the user experience," said Mitch Powers, founder and president of iostudio. "We expect to see a significant improvement in lead retention for ARNG and look forward to achieving those results."
The redesigned ARNG website went live Thursday, Dec. 13, 2012.
About iostudio
iostudio is a national creative marketing and advertising agency with offices in Nashville, TN, and Washington, DC, with a staff of 230 professionals. The agency provides full-service advertising, film production, customer care and content marketing to a range of clients across a number of industries, with a portfolio that includes notable private industry and not-for-profit clients as well as the U.S. Navy, Marine Corps, and Army and Air National Guard. iostudio was awarded the Secretary of Defense Employer Support Freedom Award in July in recognition of the company's exceptional support of its employees in National Guard and Reserve forces. For more information, visit http://www.iostudio.com. Follow iostudio on Twitter @iostudio, or like iostudio on Facebook at http://www.facebook.com/iostudio.
Media Contact:
Alicia Sellitti
iostudio
alicia.sellitti(at)iostudio(dot)com
917-822-9010