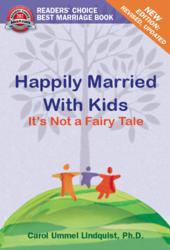 Dr. Carol's book is smart and easy to read. You'll learn to heal your marriage and it will feel like you're having coffee with an old friend.
Sarasota, FL (PRWEB) December 19, 2012
Coping with holiday stress; traveling with kids; surviving crises and other situations that arise in families during the holidays and throughout the year are addressed in this easy-to-read book written by seasoned professional Dr. Carol Ummel Lindquist. Her book is chock full of easy to understand tips and guidelines that will benefit the whole family. Published in 2011 by Granny Apple Publishing Dr. Carol's book provides guidelines to help couples put their marriage on a happier track. It was voted Best Marriage Book 2012 in the About.com Reader's Choice Awards.
Filled with well-documented, simple-to-understand, practical advice from a seasoned expert, Happily Married With Kids was written to help couples build warmer, happier, and longer-lasting relationships. It is specifically geared for couples with children, but offers practical, universal advice that would benefit all couples.
Happily Married With Kids: It's Not a Fairy Tale, is on sale book as a paperback, eBook and audio book at Amazon.com http://amzn.to/V6JBYS
Carol Ummel Lindquist, Ph.D., has been a therapist for more than 30 years. She is a board-certified clinical psychologist who has published numerous journal articles and a well-received book. A highly ranked professor who has trained many other marital therapists, she and her husband live in Laguna Beach, California, where they raised their two sons and she maintains her private practice.
Happily Married With Kids: It's Not a Fairy Tale by Carol Ummel Lindquist, Ph.D.
List Price: $16.95
6" x 9" (15.24 x 22.86 cm)
Black & White on White paper
258 pages
Granny Apple Publishing LLC
ISBN-13: 978-0983130536
ISBN-10: 0983130531
BISAC: Family & Relationships / Marriage
To schedule an interview with the author, for comments on stress reduction this holiday season or any topic involving parents and kids, call her office in Laguna Beach, Calif., at 949-494-5432.
For additional information, contact the publisher Granny Apple Publishing LLC.