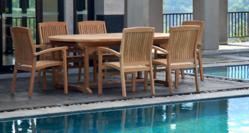 Redwood City, CA (PRWEB) December 18, 2012
Tom's Outdoor Furniture, a leading outdoor furniture dealer in the San Francisco Bay Area, recently announced that it is offering its final winter sale of the year until December 23, 2012. Just in time for holiday shopping, customers will receive a 50 percent discount on all teak items, a 30 percent discount on umbrellas, a 20% discount on cushions and a 50 percent discount on all stock cast aluminum.
"We offer customers the opportunity to purchase furniture now at the discounted prices and take delivery in the spring for their convenience," said Tom Haid, owner of Tom's Outdoor Furniture. "All of our premier Grade "A" kiln dried, plantation grown, government-regulated teak comes with a lifetime guarantee. We are proud of our exemplary customer service. Our amazing value helps us provide the ultimate shopping experience in outdoor patio furniture and outdoor patio accessories. Come experience the difference at Tom's we are here to serve you."
Tom's Outdoor Furniture will close on December 24, 2012 for the holidays and will reopen for business on January 4, 2013. The outdoor furniture store offers a complete line of teak furniture and accessories that make beautiful additions to any outdoor space. In addition to teak furnishings, Tom's Outdoor Furniture carries an extensive selection of patio umbrellas, Sunbrella cushions, indoor/outdoor rugs, furniture covers and more.
Tom's Outdoor Furniture serves the entire Bay Area and delivers their high quality outdoor patio furniture as far as Lake Tahoe and Carmel. For complete information about all Tom's Outdoor products and services, visit their website at http://www.tomsoutdoorfurniture.com.
About the company:
Tom's Outdoor Furniture specializes in outdoor teak Adirondack furniture, patio umbrellas and outdoor cushions. It uses grade "A," kiln-dried teak wood made from Indonesian Teak, ranked among the finest in the world.
Tom's Outdoor Furniture offers a variety of styles and has everything under one roof: a furniture showroom, a wood shop, a repair shop, a warehouse and delivery services. Tom's Outdoor Furniture is a locally run business that provides thousands of customers with fine outdoor furniture and great customer service.