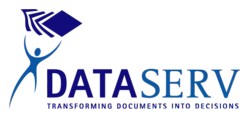 St. Louis, MO (PRWEB) December 19, 2012
DataServ, the global SaaS provider of cloud-based document and process workflow automation solutions, has added two key staff members to its IT and Business Development departments.
Benjamin Wasson has been hired as a document solution specialist, focusing on process analysis and optimization, root cause analysis, and solution development. Wasson earned an undergraduate degree in computer science as well as an MBA from Southern Illinois University, and he has extensive experience in business analysis, process automation, and competitive strategy. Previously, Wasson was a technology entrepreneur specialist with the Small Business Development Center in Carbondale, Ill.
Matthew Pritzel has joined DataServ as a new business development account executive for the company's Purchase-to-Pay (P2P) Solution, which includes Accounts Payable and Travel & Expense (T&E) Report Automation. Pritzel comes to DataServ from BlackLine Systems, Inc., where he was an outside sales representative. He also gained valuable sales experience through stints with Bureau van Dijk and Chicago Bancorp, Inc. Pritzel earned an electrical engineering degree and an MBA from Fairleigh Dickinson University in Hackensack, N.J., where he was a member of the Division I soccer team.
About DataServ
St. Louis-based DataServ is a global SaaS provider of document and process workflow automation solutions for the financial operations and human resources functions. A Cloud Computing pioneer, they developed the first commercially viable Enterprise Content Management (ECM) SaaS in the world. Serving organizations worldwide since 1994, DataServ streamlines and lowers costs within Accounts Payable via their Purchase-to-Pay (P2P) solution set (including Travel & Expense Report Automation (T&E) and Purchase Order Requisition Automation), Accounts Receivable with Quote-to-Cash (Q2C), and Human Resources through Hire-to-Retire (H2R) by capturing documents and data and automating business processes.
For more information about a DataServ P2P, Q2C or H2R SaaS solution, visit DataServ.us or call 877.700.DATA (3282).