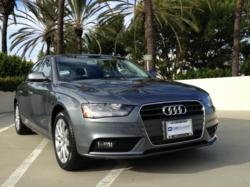 Cartelligent has put together a list of tips to help car buyers navigate the murky waters of year-end sales.
SAUSALITO, Calif. (PRWEB) December 18, 2012
Cartelligent has released its first ever guide to end of year car buying. The service, based in Sausalito, California and with branches in Danville, San Jose and Irvine helps thousands of people purchase cars each year across all manufacturers. Its team of professional car buyers has put together a guide to help consumers take advantage of manufacturer and dealer incentives this December.
We've all heard that December is a good time to get a great deal on a new car. And logically this makes sense – manufacturers want to move cars in order to make their annual numbers look strong. Luxury brands in particular use year-end deals to clear out inventory and bolster interest in new models. BMW and Mercedes are especially motivated as they battle for the bragging rights to be the No. 1 Luxury Brand in the US Market this year. Luxury brands spend extensively on year-end advertising campaigns such as Lexus' "December to Remember" and they want to make sure these are paid for by additional sales.
Manufacturers and dealers have a number of tools that they can use to incentivize buyers to purchase before the clock strikes midnight on December 31. The most popular of these are defined below.

Cash-Back Offers: "Cash-Back" is money that the manufacturer gives back to the buyer as an incentive to select their brand. These funds can be used as money down on the purchase or worked into the overall price of the car to lower monthly payments.
Lease Buy Backs or Pull Ahead: A Lease Buy Back occurs when a manufacturer allows a car buyer to turn in their current vehicle lease early in order to incentivize them to lease a newer model. Lease buy backs are typically manufacturer specific such as a two year old BMW being turned in early when a new BMW is leased. Typically lease buy backs are within 90 days of lease end, but they can be as long as one year from the lease end date.
Financing Deals: Manufacturers can also choose to offer special financing deals such a $0 down or 0% interest that can save the buyer money on the overall cost of the car by lowering payments or reducing upfront cash.
Dealer Discounts: A Dealer Discount is any amount the dealer is willing to lower the price paid by the buyer in order to make the sale happen. Supply and demand dictates that the more popular a particular model is relative to its supply, the less willing a dealer will be to discount the price and vice versa.
Cartelligent has put together a list of tips to help car buyers navigate the murky waters of year-end sales.
1. Start Your Search Early: Typically, the period between Christmas and New Year's Day is when dealers are most motivated to make deals to move inventory. However, you should be aware that the discounted cars remaining in inventory in the last week of December may be less popular models and colors. Starting early ensures that you can take advantage of end of year savings and get you the car you really want.
2. Consider Multiple Manufacturers: Because each manufacturer has its own incentives and financing offers, you may be able to get a much better deal on a comparable car made by a rival brand. If you're not absolutely convinced that one brand or car model is the only car you are willing to consider driving, opening your search to other brands may result in a lower payment on a comparable vehicle.
3. Leasing May Yield Additional Savings: Many manufacturers offer lease specific incentives that can save you thousands of dollars off the price of the car. You can even get out of your current lease early and into a newer model, often saving money at the same time.
4. Know the Value of Your Credit: If you don't know your credit score now, finding it out can be helpful. Good credit can mean the difference between 0% APR and paying a higher interest rate. If you do have less than perfect credit, consider paying cash for the vehicle or looking into additional financing options.
5. Don't Be Afraid to Buy in January: Sure, there are great deals now. But there will be great deals in January too, and February, and March. Buying a car before you're ready to purchase or choosing a car you don't love to save in the short term is a far bigger mistake than losing out on potential savings to wait for the right car at the right time.
We welcome inquiries about these tips or about car buying in general. To set up an interview with one of our experts, please contact Jessica Carstens at 415-339-4562 or email jcarstens(at)cartelligent(dot)com.
About Cartelligent: For over twelve years, Cartelligent has connected car buyers with the new car they want, at the right price. Thousands of satisfied clients have saved time and money while avoiding the hassle of the traditional dealer experience by working with Cartelligent to help them enjoy the car buying experience like never before.