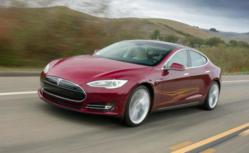 Toronto, Canada (PRWEB) December 19, 2012
Letting car shoppers have their say, AutoGuide.com polled its reader base, including the over 30 million monthly visitors on its network of 360+ car enthusiast forums, who responded by picking the electric luxury car as their Car of the Year.
AutoGuide editors found the Model S to be similarly impressive, and in reviewing the car earlier this year commented that, "This might not just be the future of the electric car. The Tesla Model S could be the future of the American auto industry."
Starting at $49,900 after a $7,500 tax rebate, top trim models boast 416 hp with a zero to 60 time of just 4.4 seconds and a 300 mile range.
With awards in six categories as well as for the overall COTY, the Model S also takes home awards for Luxury Car of the Year and Green Car of the Year.
About AutoGuide.com
AutoGuide.com, a Verticalscope property, is a new car shopping consumer resource site and the flagship of the AutoGuide forum network comprising over 360 vehicle and manufacturer enthusiast sites. According to independent audience measurement agency, comScore Media Metrix, the AutoGuide.com network ranks 3rd in monthly audience size among all automotive resource websites.