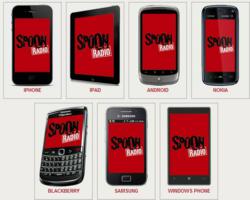 One of the fastest growing radio stations on the internet
(PRWEB) December 19, 2012
Spoonradio.com is a commercial free Swiss online radio station available for free anywhere in the world. It is also a hub of social networking activity. This rock station's playlist touches on all popular rock sub-genres and even though the station is based in Switzerland, the music it plays is recognizable to rockers around the globe. The Killers, Muse, U2, Bon Jovi and Blink-182 get regular airplay along with rock legends such as Led Zeppelin, The Rolling Stones, David Bowie or AC/DC to name just a few.
The music player proves surprisingly easy to use, unlike many other online radio stations, it does not require listeners to download confusing applications or new music players before they can start enjoying the music. All it takes is one click of the "Play" button to launch the radio stream, which starts immediately with no strings attached. The player launches in its own small pop-up window, so it can easily be minimized and kept out of the way while listeners work on their office files or leisurely surf the Internet. While, many web radio stations force users to play music from their main pages, Spoon Radio's mini player makes sure all rock lovers can enjoy their favorite commercial free rock mix while surfing the web. With its listeners' interests in mind, Spoon Radio has also partnered with a unique, free and legal download service allowing users to download their favorite songs while they're aired. Unfortunately for copyright reasons this feature is currently limited to users in France only. Spoon Radio is planning to extend this service to additional markets in the future.
Spoon Radio is also available on the go thanks to its wide-ranging apps offering for most mobile devices and lets rock fans worldwide access their favorite rock radio wherever they are. With cellphones data plans readily available, more commuters are enjoying their daily travels to the tunes of the self-titled commercial free "Real rock radio". With so many radio markets across Europe lacking a true rock radio station, music fans are once again able to listen to their favorite rock songs on the go. The station's cutting edge programming offers a rich and diverse mix of rock music's greatest tracks to rock fans of all ages. Spoon Radio's apps let users purchase their favorite songs on the iTunes or Amazon stores as well as send in requests or comments to the radio station's DJs in real time.
For anyone wanting more than just great rock music, Spoon Radio's website lets visitors view their favorite songs' videos, offers all the latest Concert and Rock News. Tickets for concerts in Switzerland, France and Belgium can be purchased directly online. Spoonradio.com also lets its listeners connect with music fans from around the world through its Facebook page, its Twitter feeds and via its own real time on-site message board.
The great thing about Spoon Radio is that it plays the best commercial free rock music mix without any kind of interruptions. It is a truly 24/7 operation with no commercial breaks for all to enjoy. Its services are absolutely free and it does not require listeners to buy subscriptions or sign up for advertisers' mailing lists before they can tune in. It delivers all the rock fans have ever asked for in a user-friendly package.