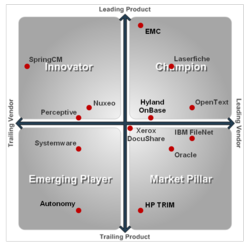 Business processes bedevil most organizations. We find that the majority of organizations move to a standalone BPM, use a workflow add-on for their ERP and use the workflows within their ECM
London, Ontario (PRWEB) December 19, 2012
The shape of the Enterprise Content Management (ECM) market is shifting after vendors merge and acquire to stay ahead of the Process Workers curve, according to new research from Info-Tech Research Group. These vendors have moved beyond just cataloging process generated content to analyzing it in the context of linked "other" content types. Info-Tech Research Group's latest Vendor Landscape: "ECM for Process Workers" names Laserfiche, EMC, OpenText and Hyland Software as Champions in a space that is becoming highly competitive.
"Business processes bedevil most organizations. We find that the majority of organizations move to a standalone BPM, use a workflow add-on for their ERP and use the workflows within their ECM," said Chris Wynder, Research Analyst at Info-Tech Research Group. "That's about as complicated as it sounds. The good news is that ECM vendors are rapidly gaining expertise in this area. Vendors have realized that processes generate key content and have responded by increasing their ECM functionality in the area of workflows and case management."
Laserfiche has the base capability and channel strength to meet and process need. Innovative mobile applications and strong imaging and workflow has Laserfiche landing in the Champion's quadrant. Ranked as an Exemplary Performer in regulation concerns, Laserfiche has been serving process-centric content for decades.
Offering a solid ECM capability, EMC also ranks a Champion in the report. Scoring the best on the Advanced Features scores, the long-standing innovator is expanding its functional footprint into new areas earning EMC the award of Trend Setter.
A diverse functional footprint earns OpenText a Champion's position. The largest pure-play ECM vendor is one of few vendors that can handle all areas of the content creation stack. OpenText offers an incredibly extensive application portfolio for mid-size and larger enterprises. It is still aggressively building out capabilities for BPM, SharePoint integration, and mobile.
Hyland Software also ranks as a Champion and is a leader at imaging and workflow for specific verticals. Hyland's OnBase has a modular application design that allows it to be integrated into a variety of content strategies
For the full list of Info-Tech Research Group's recommendations for selecting an ECM vendor for the Process Worker, visit: http://www.infotech.com/research/ss/it-vendor-landscape-enterprise-content-management-for-process-workers
Info-Tech Research Group Vendor Landscape reports recognize outstanding vendors in the technology marketplace. Assessing vendors by the strength of their offering and their strategy for the enterprise, Info-Tech Research Group Vendor Landscapes pay tribute to the contribution of exceptional vendors in a particular category.
About Info-Tech Research Group
With a paid membership of over 29,000 members worldwide, Info-Tech Research Group (http://www.infotech.com) is the global leader in providing tactical, practical Information Technology research and analysis. Info-Tech Research Group has a fourteen-year history of delivering quality research and is North America's fastest growing full-service IT analyst firm.