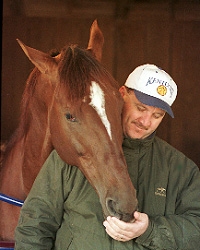 "HorseRacesNOW was created to deliver our sport to fans with fewer barriers using the best technology and innovation. Our primary goal is for the expansion of racing's fan base." - Ken McPeek
Lexington, KY (PRWEB) December 19, 2012
Horse racing fans and enthusiasts of the sport now have a mobile tool for accessing their favorite horses, jockeys and race tracks at the tip of their fingers. The first of its kind, the app coined the "Coolest Horse Racing App Ever," is now in a race of its own to land a coveted Webby Award for innovation in mobile sports app development.
In a sport struggling to synchronize its rules and methodologies across the board, the app is quickly becoming a popular way for fans to sync their favorite horses, jockeys and race replays instantly and in one place. A recent growing count showed global popularity of the app is on the rise, reporting upwards of 35,000 downloads in nearly 70 countries, since the app's debut in March 2012.
Ken McPeek, a successful and well known trainer for 27 years, developed the app along with Sue McPeek and says,
"This race is one that's not about the money, but about our way of giving back by connecting people with their passion for horse racing."
Not satisfied with online and mobile visibility and access, the two lifelong horse industry veterans, went out on their own in search of developing an app to fill the entertainment and sports void.
"HorseRacesNOW was created to deliver our sport to fans with fewer barriers using the best technology and innovation. Our primary goal is for the expansion of racing's fan base."
The International Academy of Digital Arts and Sciences (IADAS) sponsors the 17th Annual Webby Awards. Hailed as the "Internet's highest honor" by The New York Times, The Webby Awards celebrate the year's best websites, interactive advertising & media, online film & video, mobile & apps, and social experiences. Nominees will be announced April 2013, with the hallmark Webby Awards ceremony held May 2013.
Entrants compete not only to win a Webby, but to deliver their 5-Word Speech and follow in the footsteps of former winners Pinterest in Social Websites, director Spike Lee for his "Thanks 9/11 Tribute", Instagram as Breakout of the Year, Skype in the Social Mobile category and Funny or Die in several Online Film & Video categories. Since 2007, Webby Awards 5-Word Speech videos have garnered over seven million views on http://www.YouTube.com/webby
All entries compete for the Webby Award (as voted on by IADAS) and the Webby People's Voice Award (as voted online by the fans). Last year, nearly 1.5 million votes were cast from over 200 countries.
Horse racing fans are already buzzing on Twitter and via other social media, cheering the McPeeks to victory once again. But this time, it's a different sort of race whose time is NOW.