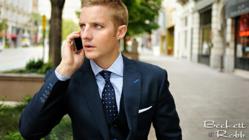 Our product can go toe-to-toe with any luxury brand on Earth and win on value or quality.
Salt Lake City, UT (PRWEB) December 18, 2012
Founded in 2009, Beckett & Robb has quickly become the dominant custom clothier in Utah. The brand was created with the simple idea that there was an unmet segment of the suit market. Historically custom suits and shirts have either been extremely expensive European brands, or cheap with poor quality Asian-based companies. By eliminating all of the middle men, selling directly to the public, and taking a more reasonable margin than luxury brands are known to take, Beckett & Robb is able to offer an extremely high-quality, fully custom suit made of British or Italian cloth and manufactured in Europe at a price that is competitive with most department stores off-the-rack selection.
Having built a scalable production back end, and with thousands of happy local clients, the team at Beckett & Robb was ready to expand. "We know we are ready for the big show," said Jason Yeats, co-founder of Beckett & Robb. "We feel like our product can go toe-to-toe with any luxury brand on Earth and win on value or quality. So we started looking for investors that would share our vision and help us achieve our goals. When we found Rock & Hammer Ventures, we knew we'd found the right partners. With their help we prepared to open a store in San Francisco, which opened in early November in the heart of the Financial District."
"Beckett & Robb is a great candidate for revenue-based financing because of their strong founding team, market traction and scalable revenue model." said Nick Macey, a partner at Rock & Hammer Ventures. "We're especially excited about the successful launch of their San Francisco store, which is clearly demonstrating this team's ability to grow their business." Opening the store is only the first part of the need for funding, with several exciting announcements forthcoming in 2013.
The team at Beckett & Robb was interested in more than just capital. "We wanted a true strategic partner, with operational experience," said Derek Bleazard, co-founder of Beckett & Robb. "Finding money is easy. Finding investors that can mentor us and help us develop the business into what we know it can be is much more difficult. We've found that in Rock & Hammer. Their investment structure directly aligns our goals, which is unique compared to other funding options." "We also appreciated that their model is so entrepreneur friendly," added Yeats. "It allows us to scale with a capital cost that is much less than selling equity."
"There is a clear market opportunity to build a quality men's fashion brand," said Macey, "and we're believers that the customer-focused and quality-obsessed Beckett & Robb brand is in a prime position to capture that opportunity. We're proud to count Beckett & Robb as another company in our portfolio, having taken advantage of our founder-friendly investment structure."
About Beckett & Robb
Beckett & Robb is a maker and merchant of fine menswear. Specializing in custom suits, dress shirts, and topcoats, their mission is to rid the world of the ill-fitting suit and help men everywhere discover their own style. Offering cloth from the world's best mills, including Ermenegildo Zegna, Loro Piana, and Holland & Sherry, each suit is designed by the client with the style advice of a B&R consultant, and built in a third generation tailoring facility in Portugal, resulting in a one-of-a-kind garment that fits like no off-the-rack suit can. Company website:
http://www.BeckettRobb.com
About Rock & Hammer Ventures
Rock & Hammer Ventures (RHV) pioneered Revenue-Based Financing in Utah. Founded in 2010, RHV has partnered with over a dozen early-stage businesses to provide them with growth capital. RHV's model couples founder-friendly capital with the assistance of an operationally experienced team to deliver significant value to their portfolio companies. RHV can be found on the web at:
http://www.rockandhammer.biz.
Press Contacts
Beckett & Robb
(800) 318-5288
Press(at)BeckettRobb(dot)com
Rock & Hammer Ventures
(888) 248-2208
info(at)rockandhammer(dot)biz