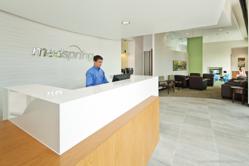 Austin, TX (PRWEB) December 18, 2012
MedSpring Urgent Care, a leading provider of quality urgent health care, today announced the opening of a new center located at 208 West Ben White Boulevard, half a block west of the intersection of South Congress and Ben White Boulevard. This marks the opening of the sixth Austin urgent care for MedSpring since August 2011. MedSpring centers have doctors on-site from 9 a.m. to 9 p.m. seven days a week.
MedSpring's South Congress center joins five other Austin-area locations in Cedar Park, North Austin's Anderson Mill area, Central Austin, Round Rock and near the University of Texas campus.
"We are thrilled to continue expanding our Austin presence with a sixth center in South Austin, providing convenient, comfortable and cost-effective health care to all areas of the city," said Jon Belsher, M.D., MedSpring's Chief Medical Officer. "In addition to quality medical care, patients can expect a relaxing atmosphere with unique amenities including complimentary snacks and beverages, in-room televisions and activities for children."
On-site digital x-ray and lab facilities assist MedSpring physicians in treating a wide range of illnesses and injuries, from cuts, sprains and broken bones to coughs, allergies and infections. Walk-ins are welcome, while scheduled appointments are also available. MedSpring surveys every patient and posts all comments and reviews online, which to date have averaged ratings of 4.9 out of 5 stars.
For conditions threatening a patient's life, limb or vision, an emergency room attached to a large hospital is an appropriate place to seek care. However, for non-life threatening issues, MedSpring presents a cost-effective and convenient alternative to an expensive ER visit. While co-pays vary by insurance provider, MedSpring patients can expect to pay $35 to $50, compared to typical ER co-pays of $100 to $200 or more. For those with high-deductibles, the cost difference could be $1000 or more. Additionally, compared to the national average emergency room visit of over four hours, MedSpring visits typically last less than an hour.
MedSpring Urgent Care currently operates eleven urgent care centers in Texas with six centers in Austinand five centers in Houston. Later this month, MedSpring begins service in Illinois with three Chicago-area locations opening this winter.
About MedSpring Urgent Care
Austin-based MedSpring Urgent Care operates urgent care centers that focus on delivering quality care and exceptional service. For more information, including patient reviews and savings compared to an ER, please visit http://www.medspring.com or find us on Facebook and Twitter.