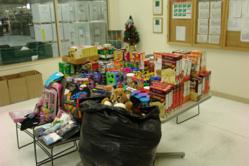 "This is a chance for us to support those less fortunate," Terry Simpson, Flottman Company
Northern Kentucky - Cincinnati, Ohio (PRWEB) December 17, 2012
The Print Industry of Northern Kentucky and Ohio has honored the Flottman Company's giving program by naming it one of the "longest such activity in their organization". Terry Simpson, Quality Assurance Supervisor at the Flottman Company, has been coordinating this charitable collection program for over fourteen years.
Each year all Flottman employees are asked to help those less fortunate by contributing a children's toy, a canned good or a couple dollars to support those in need. This year, over half of the 49 Flottman employees contributed. Tom Flottman, CEO of Flottman Company stated; "...this is the least that we can do to help those in need, it is especially important to reach out at this holiday time of giving and sharing."
Terry Simpson stated; "This year was very important to me because the United Ministries had informed us that they have more families asking for support than ever before." Over $1,000 in donations were collect, including $5 in coins from one of our employee's 10 year old daughter. In response to the ever growing need, the Flottman Company plans to expand the program in celebration of the 15th year anniversary and ask more of the community to assist.
###
About the Flottman Company:
The Flottman Company is a full-service graphic communications firm founded in 1921 and headquartered in Northern Kentucky. The company provides strategic marketing services and design, to enable clients to "Communicate Brilliantly." Marketing solutions include 1:1 marketing, a wide array of printing and specialization in pharmaceutical miniature folded inserts. Printing Industries of Ohio and Northern Kentucky named the Flottman Company their 2011 Printer of the Year and in 2010 the University of Cincinnati honored the Flottman Company with the Tri-State Family Business of the Year Award while the Business Courier decorated Flottman with the 2012 Green Business Award. The Flottman design and marketing teams received 2 – 2012 MARCOM Awards for creative excellence. Flottman Company has been featured in the New York Times, Family Business Magazine and CNBC News for their industry expertise and family business success. The company is a privately held, family owned business, currently run by the third generation of Flottmans: Tom Flottman, Sue Flottman Steller and Peter Flottman.
If you would like more information about the Flottman Company, the Charitable Program or to schedule an interview Terry Simpson or Tom Flottman, please contact Ed McMasters (513) 470-9461 or e-mail Ed at emcmasters(at)FlottmanCo.com.