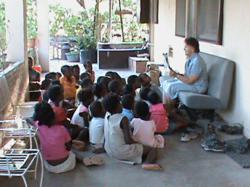 Our employees are phenomenal. Once we decided we wanted to help, over $10,000 was raised through employee donations and company match.
-Dan Lane, VP American Metal Roofs
Grand Blanc, Michigan (PRWEB) December 21, 2012
Michigan based American Metal Roofs and its employees answered the request for help from Ebenezer Glenn Orphanage (EGO) in Haiti. The orphanage was in dire need of roof replacement and repairs.
"This past summer we sponsored Tara Sabin, the wife of one of our crew leaders, to go to Haiti to help out at the orphanage started by Tara's Aunt and Uncle, Don and Doris Peavey. The Peavey's answered God's call to serve as missionaries in Haiti in 1970. Along with their four children, they moved to Dessalines, Haiti, where they built Ebenezer Glenn Orphanage" says Frank Farmer, president of American Metal Roofs.
After the holidays, a crew of five carpenters and metal craftsman led by Dan Lane, Vice President will travel to Haiti to complete the work. Along with completely rebuilding the entire roof system of the kitchen they will build three shower rooms and complete many miscellaneous building projects.
"Our employees are phenomenal" says Dan Lane. "Once we decided we wanted to help, the challenge was put before the employees at our Christmas party. Over $10,000 was raised through employee donations and company match"
EGO has been operation for 43 years housing 30-40 children each night. The orphanage provides food, Christian education, medical and childcare for the children. For more information on Ebenezer Glenn Orphanage go to http://www.ebenezerglennorphanage.org .
"We are grateful for all the support in this project" says Farmer. "If you would like to donate or contribute to the repair efforts, visit American Metal Roofs showrooms in Flint or Charlotte Michigan or call 800-287-0677."
About American Metal Roofs:
American Metal Roofs provide residential and commercial metal roofing products and services throughout Michigan. Customers receive stunning, permanent, energy-saving metal roofs, professionally installed.