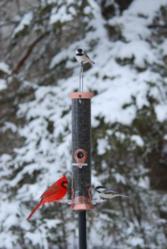 Plainfield, CT (PRWEB) December 17, 2012
Your bird feeders have been busy all year! They have provided birds with the energy they need to build nests in the spring, raise broods in the summer, and migrate in the fall. And now that cold weather is setting in, your resident bird species need them more than ever in order to survive the harsh winter weather.
To keep your backyard birds happy and healthy this season, start by giving your feeders a good cleaning – shake out any debris, remove their parts if possible, and soak your feeders in warm water to loosen any remaining debris. Brush your feeders with Droll Yankees' 24" Bird Feeder Brush (for tubular feeders and feeder ports), HummerPlus Brush (hummingbird/dish feeders, Big Top®, Jagunda®, or for tubular feeder ports), or Perfect Little Brush to clean any dirty, hard-to-reach spaces. Then sanitize with a 50/50 solution of white vinegar and warm water, and dry before filling and re-hanging. Clean your feeders regularly to prevent the spread of disease.
Weather-proof your feeders. Many Droll Yankees models already have squirrel guards or weather guards built in as part of the feeder top (Jagunda, Big Top, X-1, X-1B, Dorothy's Cardinal Feeder, and their window feeders, for instance), and will protect against winter wind, rain, sleet and snow. If you don't already own one of these feeders, you may:

Provide over-the-feeder protection for tubular feeders with a Squirrel Guard or Onyx Clever Clean Squirrel Guard
Provide on-feeder protection with a Seattle Rain Guard (for Droll Yankees' A-6 series, TH series and New Generation series) to keep birds dry and comfortable
Protect a pole-mounted tray feeder with Droll Yankees' Universal Cover
Offer a wider variety of foods to accommodate as many bird species as possible. Many bird species like seed, but others prefer dried fruit, nuts, suet, or mealworms. A versatile way to offer any of these foods is with a dish feeder with a protective cover, like Droll Yankees' X-1 or X-1B.
Also clean out and sanitize any abandoned nest boxes, and then leave them up, to provide a shelter for birds that stay in your area through the winter. To clean them out, make sure there are no birds currently using the nest box. Remove any larger debris and nest remnants, and place them in a plastic bag, tying the top tightly. Throw the nest away, keeping it well away from the nest box area. This will keep any parasites away from the newly cleaned box. Then scrape or scrub the interior of the box using a wire brush or putty knife. Rinse with hot water, and then disinfect with a 50/50 solution of white vinegar and hot water - this can be sprayed on with a spray bottle. Leave the box open to dry in the sun, and re-mount when completely dry.
If you are pruning trees and have a decent stack of branches, don't put it out at the curb! Create a brush pile near your feeder for birds to use as a place to rest and hide from roaming predators.
For help winterizing your feeders, visit your local Droll Yankees retailer, call Droll Yankees at 888-851-6621, or shop online at http://www.drollyankees.com.
###
In 1969, Droll Yankees started a bird-feeding revolution with Model A-6F, the first tubular bird feeder. Since then, Droll Yankees has built on that success, continually developing innovative approaches to bird feeding that benefit both the birds and Droll Yankees customers. Generations of bird lovers have appreciated Droll Yankees' quality construction, functional simplicity, and commitment to American workers. Droll Yankees offers a Lifetime Warranty and will replace any squirrel-damaged or defective parts, free of charge. To learn more about Droll Yankees' products, visit http://www.drollyankees.com.