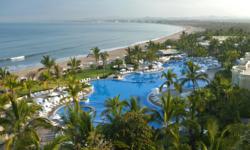 "We are offering some great hotel and air packages with Cal Jet Air that will make that vacation you're planning perfect and affordable." - Enrique Gandara, Corporate Director of Sales & Marketing
San Diego, CA (PRWEB) December 18, 2012
Travelers will be able to reach their Pueblo Bonito resort destination more conveniently starting in January, when nine additional flights to Mazatlán will begin weekly. Cal Jet Air will start non-stop service from Houston, San Antonio, Denver, Los Angeles and Oakland on Jan. 9, 2013, with great introductory fares beginning at $299 roundtrip.
The new flights, to be offered during a trial basis ending April 9, are in response to increased demand for airline capacity to the beautiful colonial city of Mazatlán. Each will have a capacity of 150 passengers, ferrying up to 1,350 additional travelers a week to this vacation destination.
In this beautiful destination Pueblo Bonito has two properties overlooking the Pacific Ocean sure to meet the demands of the most discriminating travelers. "We're delighted that our guests will now have more travel options to reach us from the United States," said Enrique Gandara, Corporate Director of Sales & Marketing "We are offering some great hotel and air packages with Cal Jet Air that will make that vacation you're planning perfect and affordable."
Pueblo Bonito Emerald Bay Resort and Spa is located in an exclusive area known as "New Mazatlán." Guests can stay in luxurious condo-style suites, perfect for couples or families, and unwind in their own private beach. The fine dining options include a new open-kitchen Bistro, a sushi bar, as well as other signature restaurants. The property has been named the Top Mexico Resort by Condé Nast Traveler's Readers' Choice Awards and was a 2012 winner of the Trip Advisor Traveler's Choice, among other honors.
Pueblo Bonito Mazatlán, for its part, offers a blend of old charm and modern luxury. Located in the heart of the Golden Zone, this resort offers spectacular views of the Pacific Ocean and a multitude of activities on the beach, where it's located. Guests can also relax by the large pools, enjoy a swim-up bar and a waterfall. They can dine grandly at the elegant Angelo's or casually at Cilantro's, among other distinctive restaurant options. Influential travel publications have also singled out this property for honors, which also include Condé Nast Traveler's Readers' Choice Awards.
Guests at either resort may choose a Deluxe All-Inclusive package, which includes exquisite award-winning cuisine and a selection of beverages. Information regarding the new Cal Air Jet flights and reservations may be made through the Pueblo Bonito Emerald Bay Resort and & Spa and Pueblo Bonito Mazatlán sites.
Starting in January, reaching your dream destination resort in Mazatlán will be more convenient than ever. Make your reservations today and count the days when you can bask in the warmth and luxury you deserve.
About Pueblo Bonito Oceanfront Resorts and Spas
Pueblo Bonito Oceanfront Resorts and Spas has six award-winning resorts in two destinations, Cabo San Lucas and Mazatlán, all offering luxury all-inclusive options. Each of the properties has its own personality, design and ambiance, yet all share the same high level of impeccable quality and distinguished atmosphere. In Cabo San Lucas, the adults-only Pueblo Bonito Pacifica Resort & Spa is the ideal setting for a romantic getaway, while Pueblo Bonito Sunset Beach Resort & Spa, with its large, all ocean-view suites, is perfect for families. Pueblo Bonito Rosé Resort & Spa and Pueblo Bonito Los Cabos, both located on El Médano beach, have the best to offer vacationers looking to be right in the middle of all the Cabo action. In Mazatlán, the elegant jewel Pueblo Bonito Emerald Bay Resort & Spa overlooks the Pacific Ocean and a private beach, while the charming Pueblo Bonito Mazatlán is located in the famous Golden Zone. Both resorts are great for family vacations and romantic getaways. Whether guests are looking for a relaxing trip or a fun-filled escape, a dream vacation awaits them at Pueblo Bonito Resorts!
For more information please visit http://www.pueblobonito.com, find us on Facebook and follow us on Twitter @PuebloBonito.