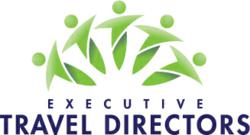 ETD has been a great partner for us. We know that when we request staff we are getting the best possible fit for our program. I am thrilled to have a staffing provider like ETD to support our programs.
Chicago, IL (PRWEB) December 19, 2012
Like Julie, corporate meeting planners become overwhelmed with tight schedules and extensive to-do lists. Using Travel Directors (TDs) as an extension of their teams, programs like incentive trips and medical educational sessions can run more seamlessly with elimination of onsite busywork. Staffing providers like Executive Travel Directors(ETD) partner valuable TDs with meeting planners to defer meeting logistics management. Instead of worrying about food & beverage, transportation, and venue paperwork, planners can focus on the satisfaction and productivity of attendees.
President & CEO of Global Planners noted, "Global Planners has been relying on ETD for more than 8 years to provide us with great TD's. Not only is the staff superior but the service is unmatched. We are happy to have such a valued partner!"
Executive Travel Directors (ETD) is a Chicago-based company providing onsite logistical assistance to business meetings, incentive trips, and medical educational sessions. Since 1988, ETD has operated on respect for meeting planners and the success of their programs. ETD hosts a registry of over 2,000 Travel Directors and provides staff to more than 5,000 programs annually. For more information on Executive Travel Directors, please visit us at http://www.traveldirectors.com.