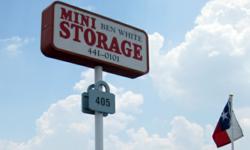 It's that time of the year when space gets scarce around the house and garage because of all the new gifts from family and friends.
Austin, Texas (PRWEB) December 19, 2012
MyAustinStorage.com today announced their city wide "Xmas Clear Out" moving discount at their Mopac self storage location. The discount offers a one-day only savings on 10x15 storage units of $20 off.
The "Xmas Clear Out" discount will run this Saturday, December 22, 2012 and is valid to in-store customers only at all 3 of their convenient locations in Austin, TX.
Why would MyAustinStorage.com discount Austin self storage units in the midst of their most hectic time of year? "It's simple," says Patrick Jones, MyAustinStorage.com spokesperson. "Once customers understand how easy MyAustinStorage.com makes moving, they're going to remember us every holiday season, when space around the house once again gets scarce after gifts have been opened. We want long term customers."
Patrick reports that MyAustinStorage.com enjoys a large percentage of repeat and new customers who were recommended by a friend because of the down to earth service and clean, affordable and conveniently located storage units. The company even offers climate controlled units, perfect for those sentimental items that need that extra care.
In addition to saving customers money this holiday season, MyAustinStorage.com offers these storage tips to make moving easier during the craziest time of year.
1. Plan Ahead – Reserve your storage and moving truck long in advance, because these services are in limited supply during the holiday season.
2. Equip Yourself – Buy high quality moving boxes and get bubble wrap and packing paper for the delicate items. Use moving blankets to protect large furniture prevents damage.
3. Plainly Label Everything – Label boxes by room and contents so you can quickly find what you need and unpack it where it needs to go. Labeling those boxes on all sides helps greatly when they are stacked on top of each other.
4. Organize Your Move – Measure those larger items like boats, jet skis, furniture and the like in order to make the most of your space. You can also get measurements often from manufacturer websites.
About MyAustinStorage.com
MyAustinStorage.com is an Austin self storage company with 3 locations, including their Pond Springs self storage. We offer residential and commercial self storage units for rent, as well as moving and packing supplies at each location. Convenient drive up storage units are at all locations, and most locations offer Climate and Temperature Controlled Storages with 24/7 video cameras to offer a greater degree of protection for your property.
"Xmas Clear Out" Rules
Offer valid only at all MyAustinStorage.com locations. Just go to any of the locations internet specials pages, print the coupon, and call to reserve the storage unit. Discount available in-store only on Saturday, December 22, 2012 for 10x15 storage units or larger, to get the $20.00 "Xmas Clear Out" discount. Offer is valid while supplies last, and subject to availability.