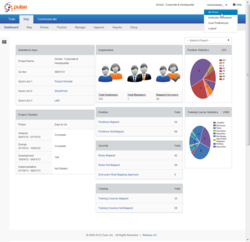 We had to build it for our customers' sake...three activities (end-user training development, role-to-position mapping and project communications to stakeholders) are so tightly woven that it's surprising that we couldn't find any commercial tools...
Palo Alto, California (PRWEB) December 18, 2012
Although Pulse continues to receive accolades from customers and jTask integrator partners, the new UI makes it an even faster, more effective tool for customers who need to manage their organizational change management activities: end-user training development, security role-to-position mapping, project communications and stakeholder registries. "These three activities are so tightly woven that it is surprising that we couldn't find any commercial tools like Pulse to wrap the three together. So we had to build it for our customer's sake," said Mario Cristiani, jTask VP of Operations.
The focus for the December upgrade will allow jTask to build on tablet and smartphone experiences in the future. Pulse 4 is even more essential, with its new responsive table layout, cross browser compatibility and client side sorting capability.
Improved navigation and table layouts
Left-hand sidebar navigation and a implementing "responsive table" layouts written in CSS 3 (SAAS) and CoffeeScript literally let the Pulse tables flow and adapt to every user's screen resolution and size. For older, smaller screens with lower resolution, the sidebar is docked by default and appears only when the user hovers over it. For newer, higher resolution screens, the sidebar appears by default. However users can hide it for more space to view the table information, like when someone is viewing it on their iPhone.
Table sorting improvement
What used to take seconds for a round trip to the server is now performed near instantly within the client-side browser.
Because Pulse now uses client side JavaScript sorting capability to sort columns and paginate data already drawn down from the server, users can click between pages and have a shorter than 100ms response time on most browsers. (It's about 1000ms on IE8). This is in comparison to a full page load and database query time of three to five seconds.
Future improvements
Cross browser compatibility: The new UI makes use of the capabilities that modern browsers Chrome, Firefox, Safari, Opera, IE9, Android Chrome and Safari iOS have. For users of older browsers, front end is built in such a way that it gracefully degrades to work on IE8 and pre 2009 browser versions.
According to jTask developers, all the work on the new front end platform will allow us to do updates and improvements in a more efficient way in the future.
About Pulse
Pulse is SaaS that jTask delivers to any of its consulting customers free of charge to support their organizational change management activities. It is also available for purchase by non-consulting customers. A fourteen-day, extendable trial is available by going to the j Task website.
About the Company
For the past ten years, jTask, Inc. has specialized in providing Organizational Change Management (OCM) products and services to companies that are installing or upgrading ERP applications to operate their businesses. jTask OCM services include change management, end-user training development and project communications, serving industries from finance, to semiconductor, to software.
All jTask consultants have extensive experience in Organizational Change Management as well as practical experience of ERP installations and upgrades. jTask supports the standards developed by the Project Management Institute and encourages all its staff to become qualified.