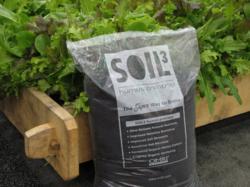 Lawrenceville, GA (PRWEB) December 18, 2012
On Wednesday, December 19th, Super-Sod will produce a video at their 609 Airport Road Outlet in Lawrenceville, GA. The video is part of their how-to library for DIY homeowners and will be posted on YouTube and the website for Super-Sod's Soil3 organic compost.
The video will feature Super-Sod's Doc's Raised Garden Kits. Docs' Kits are raised wood beds that are easily put together without tools, using mortise and tenon joints, and are primarily used for vegetable growing. Kits also include organic compost to fill them. The gardener procures their own seeds and vegetable starts.
In the morning, filming will be at the Super-Sod outlet and will show the facets of loading the wood beds and Soil3 compost into a customer's pick-up truck. Filming will then move location to Bogart, Georgia, where unloading and set-up of the kits will be filmed in the garden of Dr. Michael A. Dirr, a national gardening expert.
Athens Video (Athens, GA) will be filming and editing under the direction of Super-Sod's marketing director, Hillary Thompson.
Doc's Raised Garden Kits are created by Super-Sod, with Outlets throughout Georgia, South Carolina, North Carolina, and north Florida. Super-Sod is a family-run business that employs experts in turf and horticulture.