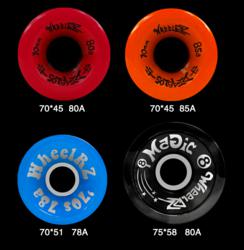 WheelRZ Owner and Rider Rob Wheeler said, "We wanted to create a line of wheels that could help any level longboarder progress and could stand up to the abuse an advanced rider inflicted on them."
(PRWEB) December 20, 2012
With the increasing popularity in longboarding, there are so many companies popping up that build longboards and the accessories associated with longboards, especially wheels. The problem with most of these companies is they are not rider owned and operated. While they design products that look appealing, their products often perform poorly. By doing this they saturate the market with an inferior product which becomes the accepted norm due to their mass production. Quality control goes completely out the window and this is something WheelRZ Owners were no longer willing to stand for.
WheelRZ was started by riders who have grown tired of watching these companies develop and promote these inferior products. They decided to take matters into their own hands and develop a line of longboard wheels that delivered a superior ride that didn't cost a fortune. WheelRZ Owner and Rider Rob Wheeler said, "We wanted to create a line of wheels that could help any level longboarder progress and could stand up to the abuse an advanced rider inflicted on them." Having a collective 40 years of riding experience, WheelRZ decided what was most important in a longboard wheel: they need to be fast, smooth, predictable, and durable. They spent a lot of time researching and testing many different formulas. After going through the hundreds of test wheels they developed with different shapes and urethane formulas, they found the perfect combinations and created a line of longboard wheels that deliver an amazing ride at affordable prices.
All WheelRZ longboard wheels are made of extremely high rebound urethane giving them that extra speed a rider needs to stay out in front of the pack, add more slides to their freeride run, and even make it easier for a beginner longboarder to learn how to ride.
They started their line with 4 Wheels that they felt were imperative to any progressive rider:
Magic 8-0 – 75X58mm 80a - Square Lipped – Offset Hub: WheelRZ Downhill Wheel that uses the WheelRZ "Magic Formula" which is extremely fast and grips well in the corners. Let the Magic 8-0s help you appear at the finish line first
'70s – 70X51mm 78a – Square Lipped – Offset Hub: WheelRZ All Around Wheel that also uses WheelRZ "Magic Formula". These wheels are exceptionally fast and extremely versatile. Rip through the slalom cones, glide effortlessly through your commute, carve up the pavement, or take them down a technical downhill run. The WheelRZ '70s can do it all.
Diablos – 70X45mm 80a or 85a – Round Lipped – Centerset Hub: WheelRZ Freeride/Slide Wheel that uses WheelRZ "Wicked Thane". Burn up the pavement and leave your pinkish thane lines behind with the WheelRZ Diablos. They are very fast wheels and both remain predictable throughout their life making them perfect for freeriding. They can also be flipped to help prolong their life. The Diablos are fast, smooth sliding wheels that a rider can count on.
WheelRZ popularity is growing quickly on the East Coast since they have released their product in September 2012. They are an innovative company with many more wheels in testing, and they do everything they can to help promote the progression of longboarding. WheelRZ has sponsored many longboarding events and have helped make many happen so kids have the opportunity to get out there and ride. WheelRZ Owner/Rider Ricky Wheeler stated, "We are a company that thrives on progression in longboarding, and we are so passionate about boardriding that we strive to create products that will help longboarding continue its upward progression. Being a rider owned company with lots of amazing team riders to test our wheels has helped us create this amazing line of wheels, and there are still many more to come."
Progression in longboarding starts at the wheels, so get a quality set from WheelRZ.
Get a set of WheelRZ at http://www.wheelrz.com.