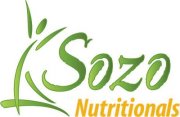 Svetol® a patented source of Chlorogenic Acids
Dallas, TX (PRWEB) December 28, 2012
Sozo Nutritionals, a leading provider of natural weight loss supplements, has released a new dietary supplement that is clinically proven to aid in healthy weight management. This new product includes Svetol® a patented source of Chlorogenic Acids that has been heavily researched and clinically proven to support natural weight management. Clinical studies of Svetol® have also shown that Svetol® supplies the highest level of metabolism of Chlorogenic Acids of any known source. Numerous recent studies of Chlorogenic Acid have shown its ability to limit dangerous after-meal glucose surges and thus assist with weight loss. In addition, Chlorogenic Acids are powerful antioxidants that are also being researched for their potential benefits in moderating cholesterol levels.
Sozo Nutritional's new Svetol® powered supplement comes in a convenient 90 Capsule bottle with a recommended dosage of 1 capsule three times per day. This makes Sozo's product a full 1 month supply unlike other products which require multiple bottles per month. This represents a significant value for the consumer. Sozo Nutritional's President, Brandon Larson, states, "We wanted to provide a competitive alternative to set our product apart and we did that by increasing our capsule count and yet still keeping out MSRP below $1 per day, unlike most of our competitors that sell a 30 or 60 capsule bottle which requires multiple bottles per month to be effective." Futhermore, Sozo's Svetol® supplement contains no fillers, additives, synthetics, or junk ingredients.
Svetol® is virtually caffeine free, contains no Cafestrol and Kahweol and has been extensively researched. It has been standardized to provide a guaranteed 50% Total Polyphenols, 45% Chlorogenic Acids, 10% 5-Caffeoylquinic Acid and less than 2% Caffeine. Svetol® is a registered trademark of Naturex S.A.
Currently, Sozo Nutritional's Svetol® supplement is available on their website, Sozo Nutritionals Website, as well as on major online retailers like Amazon.com and Buy.com. For more information please contact Sozo Nutritional or visit them online.