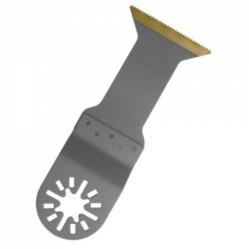 ...chemically applied titanium coating makes the Titanium Blade more durable than other metal cutting blades
(PRWEB) December 18, 2012
Leading wholesaler of oscillating tool blades, MultifitBlades.com, is proud to announce the latest addition to their robust lineup of blades and accessories – the new Titanium Bi-Metal Universal Saw Blade. The titanium blade delivers superior durability and versatility, and right now customers can get it for free when they order online. A great bonus gift for yourself or someone else this holiday season.
The new 1-3/4" Titanium Coated Bi-Metal Blade promises to be one of the strongest, most versatile oscillating tool blades on the market. It can be used for either flush or plunge cuts, and the high heat chemical coating provides superior protection for the cutting teeth. Titanium coated blades have quickly become the preferred choice for oscillating tool users that want to elevate the capabilities of their multi-tools, and that's exactly what the Titanium Bi-Metal Universal Saw Blade does.
Features that set this titanium blade apart from other oscillating tool blades include:

It's our longest lasting universal cutter ever.
It's a universal blade for cutting wood, sheet metal, screws, nails, plastic, drywall (sheetrock), fiberglass, acrylics (Plexiglas) and laminates.
Its chemically applied titanium coating makes it more durable than other metal cutting blades.
The blade's universal arbor is designed to fit Fein Multimaster, Chicago Electric, Bosch, Craftsman, Genesis, Mastercraft, Rigid Jobmax and many others.
This versatile blade can handle virtually any job that needs to get done. From cutting through PVC to cutting down metal bolts the 1-3/4" Wide Titanium Bi-Metal Universal Saw Blade is the new go-to tool.
Limited Time Only Special Offer on the New Titanium Oscillating Tool Blade
The only thing better than being able to add a superior titanium oscillating tool blade to your kit is being able to do it for free. Right now customers that order $100 or more in blades and accessories at MultifitBlades.com will receive a 1-3/4" Wide Titanium Bi-Metal Universal Saw Blade completely free of charge.
No coupon code is required – the blade with automatically be added to your order. Offer is available until January 31st or while supplies last.
Visit multifitblades.com to take advantage of this special offer, learn more about the new titanium blade or any of MultifitBlades.com's many other oscillating tool blades.
About MultifitBlades.com:
MultifitBlades.com is a direct source Super-Center wholesaler of cutters and other accessories for oscillating multifunction power tools. The company has helped revolutionize the oscillating tool accessory industry by providing extremely low cost, high quality replacement blades and accessories that are compatible with most leading tool manufacturers.