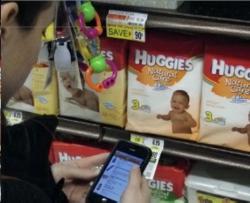 We are the first paperless mobile coupon system that shoppers can use in any store coast-to-coast.
New Rochelle, NY (PRWEB) December 18, 2012
MobiSave, a simple yet revolutionary mobile coupon App and system that returns control of targeting and messaging back to packaged goods manufacturers and aims to disrupt today's coupon landscape, announces results of a six-month beta test with 200 active users.
"MobiSave achieved 90% member repeat and exceeded its business plan goals. The average member used MobiSave 22 times over the six month test period. We are the first paperless mobile coupon system that shoppers can use in any store coast-to-coast. Our beta test members successfully redeemed MobiSave offers across more than 100 unique retail chains from Walmart to Walgreens to Kroger to COSTCO and even Home Depot, proving an ability to cost effectively deliver targeted incentives without any dependence on retail or third-party systems or store loyalty cards," said Steven Marcus, President.
The patent-pending MobiSave mobile coupon system employs smartphone cameras to capture images of member's register receipts and then converts them into text for proof-of-performance of pre-selected offers and data mining. Unlike traditional paper coupons carried in FSI's or other systems such as Catalina or Coupons.com, MobiSave controls both the distribution and redemption. This allows for unprecedented insight into members actual purchases across their entire market basket.
"Collected market basket data will give manufacturers an ability to continuously optimize their coupon and sample programs in near real time. Meetings with more than 30 of the country's leading manufacturers confirmed their interest in the MobiSave system and the benefits of increased control and improved ROI of their coupon programs," said David Florence, CEO.
MobiSave also announced the appointment of Atwood Capital Partners to secure financing for its system expansion and sales efforts leading to a mid-2013 national launch.
Atwood Capital Partners is a middle market merchant bank for the information, media, technology, and communications industries. Drawing from the Atwood team's deep investment banking, operational and investment management experience, the firm offers corporate executives and entrepreneurial owners alike expert guidance for mergers & acquisitions, debt and equity financings, and financial restructuring transactions. Atwood also partners with emerging businesses providing them with as-needed financial, operational and strategic services. Headquartered in New York with a presence in Los Angeles and Shanghai, the firm offers its clients the right connections across its targeted industries around the world. Atwood is a registered broker-dealer.
About MobiSave
MobiSave is a mobile coupon App specifically targeting consumer packaged goods companies who market through traditional grocery channels. MobiSave is different because its system does not have any retailer/loyalty card dependency. It effectively operates as the manufacturer's loyalty card giving them for the first time direct access to their consumers anywhere they shop. This means they have more precise targeting, lower costs, faster speed-to-market and the ability to regain control over their brand destinies. The MobiSave management team consists of seasoned executives with relevant experience in consumer packaged goods, digital/direct/database marketing and technology. MobiSave is a Delaware C Corporation headquartered in New Rochelle, N.Y.