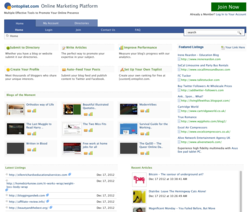 Alisa Viejo, CA (PRWEB) December 19, 2012
OnTopList.com is working to improve the value of search engine results by promoting websites with high-quality content. The company specializes in submitting your website to their high-traffic website directory, dramatically increasing a business's online exposure.
"When a company joins OnTopList.com, it receives significant online exposure," OnTopList.com's Derek Sober writes on the company's website. "OnTopList.com accomplishes this by embedding valuable links in sites focused on topics related to that company's subject matter."
As OnTopList.com points out, the service accepts both websites and blogs, allowing clients to submit an unlimited number of articles. Unlike other services, though, OnTopList.com screens all comments for validity, awarding an authority score of between one and 100 for provided content. This score rates a piece of content's overall importance on the web, which determines that content's position in OnTopList.com's directories. The score is based on several factors, including keyword use, relevance, and the overall quality of the content. This score goes up as more quality content is added to the site.
By being included in OnTopList.com's web directory, a business receives a significant bump in exposure, which can increase a website's pageviews dramatically. By only accepting quality content, OnTopList.com is able to provide an extensive directory of high-quality sites, while using embedded links and other tools to increase search engine ranking. OnTopList.com also includes links to members' content on blogs around the Internet, providing exposure a business would not normally have received.
Once a business joins OnTopList.com, it will also have access to website analytics, which provides information on daily or monthly pageviews, giving that business an overview of how well the listing is improving results. A business's RSS feed will also be published daily to all of its followers and fans.
Each submission is edited by OnTopList.com's writers, ensuring it meets the company's high standards. All content is checked not only for content, but also SEO friendliness, avoiding any mishaps that might exclude it from search engine listings. Articles must also comply with Google Adsense program policies, which disallows adult content or content that advocates racial intolerance. The complete list of these guidelines is available here.
OnTopList.com also has a networking aspect, encouraging bloggers and website owners to interact with each other by and creating profiles within their blog directory. OnTopList.com includes recent articles on its main page, providing constantly updated content that will introduce blogs and articles to an audience that would not have otherwise found it.
If a business includes a reciprocal link, directory listing is free. Without a reciprocal link, OnTopList.com charges only $29.99 per year or a $109.99 one-time fee for their online marketing services. This includes an unlimited number of article submissions. Businesses can also upgrade to a featured listing for only $29.99 per month for listing on a category page, $39.99 per month for listing on a directory page, or $49.99 per month for listing on a main page.