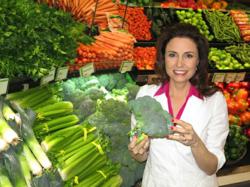 "...chia seeds and spirulina are rich in antioxidants, which help stimulate the immune system."
Kailua-Kona, Hawaii (PRWEB) December 18, 2012
As year-end holiday travel season nears, America's Pharmacist Suzy Cohen offers some practical ways to turbo-charge your immune system for a happy and healthy holiday season:
1. Avoid Restroom Air Dryers: Never, ever use the restroom blow dryers! A recent study showed that drying one's hands with an air dryer instead of paper towels actually increased the number of germs on test subjects' hands.
2. Go Green: Add green-colored, immune-boosting superfoods, like Hawaiian spirulina or chia seeds, to your diet. Spirulina has been scientifically shown to support a healthy immune system. And both chia seeds and spirulina are rich in antioxidants, which help stimulate the immune system.
3. Feed Your Flora: Building healthy intestinal microflora levels is paramount to good health. Gut flora in the average adult weighs about two to three pounds -- about as much as a brick. To maintain gut flora health, eat active, live bacteria cultures. Contrary to popular belief, yogurt is not an ideal source for good bacteria, as many of the microorganisms are likely dead by the time you eat it, and because many people are lactose intolerant. The best source for active, live cultures is probiotic supplements.
More health tips are available at http://www.SuzyCohen.com. Suzy is a member of Nutrex Hawaii's Scientific Advisory Board.
About Suzy Cohen:
Suzy Cohen, RPh has been a pharmacist for over 23 years and is commonly known as "America's Most Trusted Pharmacist." She is the author of the nationally syndicated column "Dear Pharmacist" and bestselling books including "The 24 Hour Pharmacist," "Drug Muggers" and "Diabetes Without Drugs." Ms. Cohen has appeared on many national and local television and radio programs as a health expert including "The Dr. Oz Show" and "The Doctors."
About Nutrex Hawaii
Founded with the goal of harnessing the benefits of microalgae to alleviate malnutrition and promote health, Nutrex Hawaii is a global leader in microalgae products. Learn more at Nutrex-Hawaii.com.