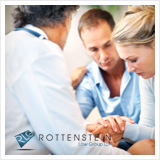 New York, NY (PRWEB) December 18, 2012
(Attorney advertising. Prior results do not guarantee a similar outcome.) On the heels of lawsuits over its transvaginal mesh products, Ethicon recently recalled two of its surgical aid products. The Rottenstein Law Group, which represents clients with injuries allegedly caused by transvaginal surgical mesh, will keep patients apprised of developments related to these new product recalls.
The packaging breaches in Ethicon's SURGIFLO Hemostatic Matrix and SURGIFLO Hemostatic Matrix Kit Plus FlexTip with Thrombin could have potentially fatal consequences for patients, according to a U.S. Food and Drug Administration report issued Dec. 14. The packing process, the report said, could lead to a breach of the double Tyvek pouch in products manufactured from Sept. 16, 2011, through July 27, 2012, and distributed from Sept. 29, 2011, through Aug. 7, 2012. This could affect how the products control the flow of bleeding during surgery.
This is not the first time Ethicon has faced controversy over its products. The company is one of six major device manufacturers involved in a multidistrict litigation in United States District Court for the Southern District of West Virginia (MDL No. 2327) because of serious side effects such as excessive bleeding, erosion, pain and bladder perforation from their transvaginal mesh products. Complications from transvaginal mesh surgeries are "not rare," the FDA said in a 2011 report.
The Rottenstein Law Group, which represents clients with injuries allegedly caused by transvaginal surgical mesh, maintains a comprehensive product information center at http://www.rotlaw.com/vaginal-mesh/ to help women who believe they have suffered serious side effects caused by transvaginal mesh procedures designed to treat pelvic organ prolapse or stress urinary incontinence.
"If you or a loved one believe you have been injured by transvaginal surgical mesh products, I encourage you to call us for a free consultation," said Rochelle Rottenstein, principal of the Rottenstein Law Group.
About THE ROTTENSTEIN LAW GROUP
The Rottenstein Law Group is a New York-based firm that represents clients nationwide in mass tort actions. The firm was founded by Rochelle Rottenstein, who has more than two decades of experience as a lawyer, to represent clients hurt by defective medical devices.
Contact:
The Rottenstein Law Group, LLP
Rochelle Rottenstein, Esq.
321 W. 44th Street
# 804
New York NY 10036
(212) 933-9500 (office phone)
(212) 933-9980 (facsimile)
rochelle(at)rotlaw(dot)com
http://www.rotlaw.com