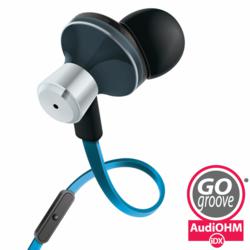 Westlake Village, CA (PRWEB) December 18, 2012
Accessory Power supports The Fender Music Foundation in providing instruments to music education programs across the country by unveiling the release of a new packaging that will feature the logo of this organization. Founded in 2005 by current Fender Musical Instrument Corporation CEO, Larry Thomas, The Fender Music Foundation has reached over 160,000 people through its grants to music education programs.
Seven selected GOgroove products showcase information on The Fender Music Foundation: AudiOHM GEN 1, AudiOHM HF, AudiOHM BPM, AudiOHM DX, AudiOHM iDX, SonaVERSE EQ and the BlueSYNC SLK. The AudioOHM GEN 1, HF, BPM, DX and iDX models are noise-isolating, ergonomic earbuds. The AudiOHM HF and iDX include an integrated microphone with call control. The SonaVERSE EQ is a 2.0 channel speaker system with sound-equalizing controls. BlueSYNC SLK is a Bluetooth-enabled 2.0 channel sound system. All AudiOHM earbuds are currently available for purchase; the SonaVERSE EQ and BlueSYNC SLK speaker systems will be available for purchase in the near future.
The Fender Music Foundation is a 501(c)(3) charity that, through donations, provides the gift of music to programs across the nation. Exactly 100% of funds donated go toward providing musical instruments to qualifying music education and music therapy programs. The Fender Music Foundation operates from funds received through sales, including transactions on their online store where the public can purchase authentic celebrity music memorabilia.
Accessory Power will continue its efforts with upcoming activities, such as giving proceeds from sales during specified promotional periods, having Accessory Power staff volunteer to prepare instruments for music education programs and offer products to be sold for fundraising giveaways. Details for these planned fundraising efforts will be released as final agreements are made. To learn more about the Foundation, the products and current promotions, visit gogrooveaudio.com/FMF.
The first promotional period ran November 20th through November 23rd 2012 as part of an exclusive CNET.com Marketplace promotion. Five percent of net profits from the sale of all AudiOHM iDX models were donated to The Fender Music Foundation during this promotion. An announcement of the next fundraising period will be forthcoming.
The GOgroove AudiOHM models, SonaVERSE EQ and BlueSYNC SLK, like all Accessory Power products, come with a three-year manufacturer's warranty that can be registered at http://www.AccessoryPower.com.
For further information on the new GOgroove line of audio products or Accessory Power, visit http://www.accessorypower.com.