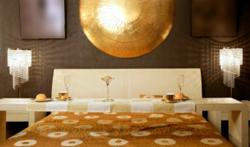 A simple idea goes along way. Connect with a style idea.
(PRWEB) December 18, 2012
How about creating a fresh look at home in 2013? Winter is the right time to consider a makeover. And here is the starter wisdom that has launched a thousand new makeovers. Start by identifying the most frustrating problem areas at home. An easy way to begin is to organize. Organize by de-cluttering each room. To keep the momentum throughout the project, set up a month-by-month schedule of achievable goals. For motivation, visit KindaChic.com, a home décor and furnishings website, to select the style this makeover will take.
Need to control the visual chaos? The first tip is not to keep items in the hope that design trend will someday return. Decide what trends will lend value to this makeover and what items will look mismatched. Also, don't let sentimentality rule this makeover either. Toss the golden oldies if the oldies only get moved from place to place but never quite fit in. Need a tip to begin developing that fresh look? Wander through the many modern and classic décor and furnishing styles available at KindaChic.com and choose the one item that represents a fresh look. A modern coffee table can be the new center for an arrangement of beloved arm chairs. A sleek and modern chaise can be the accent that yesterday's sofa needs.
A simple idea goes along way. Connect with a style idea. Each piece is designed with a character to engage in a rapport with its users. Imagine the choices that can be made if there is no fear of disapproval when designing this private space. Home is not a static place. A fresh look will make it an ecstatic place to be.