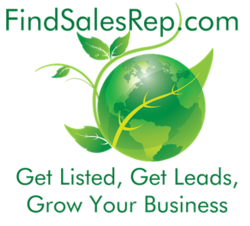 FindSalesRep.com is like a dating service for direct sales reps seeking prospects and prospects seeking reps. We help bring people together and everyone benefits.
Phoenix, AZ (PRWEB) December 27, 2012
In early 2012, Gabby and Bryan Gmyrek, the founders of FindSalesRep.com believed in the dream many reps share of earning a residual income from home. They were already successful in direct sales and were top recruiters for the company they represented, but they could see many people from various companies struggling due to lack of new prospects. They knew they could help other reps do what they had done and wanted to give them a away to grow their businesses online. "Direct sales is an attractive industry and the companies offer amazing products and lucrative opportunities that people are interested in. We created FindSalesRep.com to help connect people looking for those things with some of the best reps in the world," said Gabby.
"Cracking the code to lead generation can be difficult for Reps from any company," said Bryan. "Direct Sales, also known as Network Marketing, is a word of mouth business. It works like this: someone who loves the products and opportunities that a direct sales company such as Scentsy or Visalus offers and decides to become an independent representative (rep). They are encouraged to share their experiences with as many people as possible, but many reps run out of contacts quickly and are unable to grow a serious business." That's when many reps who had dreams of growing a residual income stream are forced to give up, but FindSalesRep.com solved this problem in 2012, by helping thousands of direct sales reps get found online.
In 2012, FindSalesRep.com was the first site to focus solely on helping independent direct sales reps from any company get found locally in their own town, city, state or even across the nation. Bryan, who has been making websites since 1997, said "FindSalesRep.com is like a dating service for direct sales reps seeking prospects and prospects seeking reps. We help bring people together and everyone benefits." He used his computer skills to make it easy for anyone to get found online. Reps fill out a one-page form and purchase a Listing. Once their listing is live, people can find them using the site's search engine and through various search engines such as Google. This kind of exposure can turn a struggling representatives business into a thriving source of income and pride. Here's what a few reps have to say about their experiences with FindSalesRep.com:
"THANK YOU for the lead! I was able to reach the person inquiring, supply her with the tools to order the products needed … and I now have a new monthly customer, YAY! Thanks again!" Chandra V., Fortune Hi-Tech Marketing
"Just wanted to let you know that I just talked to the lead you sent me, and have already submitted her order." Lori H., Mary Kay
FindSalesRep.com is not another "lead generation" company that sell leads to direct sales reps. Having tried some of those companies, the Gabby and Bryan found that the leads were generally not very good – they were either over sold, "stale" or not interested. Conversely, prospects that come in through FindSalesRep.com are live and actively looking for what reps sell, and are eager to purchase products or sign up. Many reps on FindSalesRep.com even get calls directly from prospects, and find that their new problem is not having enough time to help everyone who is interested in their products. "It's the perfect situation for both the reps and the person who is looking for a specific direct sales company or product. It's a win win." shared Kim Newsom, a Silpada Rep from Maryland.
2012 was year of big growth for both the direct sales innovators at FindSalesRep and the reps they associated with through their website, blog, Facebook, LinkedIn and Pinterest. FindSalesRep helped thousands of reps get found. "It was fast year," Gabby said. "We never had time to look the rearview mirror. With the mantra 'Let's Get You Found', we were always thinking of and implimenting the next new way to get reps found." In 2013, look for FindsalesRep to continue it's rapid growth as they set their sights on being a big player in the multi-billion dollar direct sales industry.
About FindSalesRep.com
FindSalesRep.com, the original online resource for finding representatives from any Network Marketing company, is connecting people looking for products and opportunities with the Direct Sales and Network Marketing consultants that want to get found. Learn more about FindSalesRep.com here or email Support(at)FindSalesRep(dot)com
Many reps find that the benefits of being part of the FindSalesRep.com family don't stop with their listing. Direct sales reps are social people and FindSalesRep.com helps reps grow new relationships and connect on popular social networks such as Pinterest and Facebook.