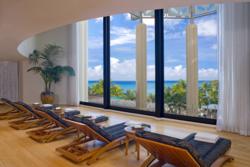 Lomi Wawae is a traditional foot massage passed down through generations from a therapist's kumu (teacher in Hawaiian)
Honolulu, HI (PRWEB) December 18, 2012
Relax in a tropical paradise with the newly-introduced Lomi Wawae treatment at the Na Ho'ola Spa at Hyatt Regency Waikiki Beach Resort and Spa. This unique treatment unites the healing qualities of traditional Hawaiian Lomi Lomi massage and the concentrated healing movements of Lomi Wawae for the feet. The unique mixture offers digestive relief, lymphatic drainage, and improved circulation.
Lomi Wawae is a traditional foot massage passed down through generations from a therapist's kumu (teacher in Hawaiian). Na Ho'ola Spa therapists spent weeks practicing and developing a one-of-a-kind, authentic treatment, combining traditional Hawaiian foot reflexology with Lomi Lomi, the foundation of Hawaiian healing therapies.
The cost is $215 for an 80-minute massage and body treatment which includes:

Traditional Hawaiian Lomi Lomi: opens the mind, body and spirit for cleansing
Full back massage: incorporates Lomi Lomi techniques to deeply relax the body
Salt Scrub: aids in purifying and cleansing the body
Hip massage: utilizes Lomi Lomi to relax the core muscles and promote tension relief to the lower back and legs
Lomi Wawae: improves overall well-being of the entire body by stimulating points on the foot
Boasting an idyllic setting on legendary Waikiki Beach, the 10,000-square-foot Na Hoola Spa offers fabulous views of Waikiki Beach, 16 treatment rooms, locker rooms, dry saunas and a gift shop. Skilled practitioners rejuvenate the body, mind and spirit with a wide variety of luxurious massages, facials, stone treatments, and wraps that promote health and wellness through the practice of Hawaiian culture, values and its healing arts. The spa is open daily from 10:00 a.m. to 9:00 p.m.
For more information or to reserve a treatment at the Na Ho'ola Spa, please contact 808.237.6330 or visit http://www.hyattregencywaikiki.com.
About Hyatt Regency Waikiki Beach Resort and Spa
Balanced between the idyllic beauty of the legendary Waikiki Beach and the dynamic city center, Hyatt Regency Waikiki Beach Resort and Spa is a vibrant destination combining relaxation and adventure with true Hawaiian hospitality. Each of the 1,230 guestrooms, including 19 suites, offers Hawaiian elegance and private lanai with panoramic beach, mountain, and city views. With an unrivaled location just steps from world-famous waves, the resort affords effortless exploration of the island's attractions, from Diamond Head Crater, Honolulu Zoo, and Waikiki Aquarium, to world-class shopping, sophisticated dining and expert surfing lessons. Offering endless amenities including luxurious treatments at the 10,000 square foot Na Hoola Spa, StayFit Fitness Center, freshwater swimming pool overlooking Waikiki Beach, fresh regional dishes at Shor American Seafood Restaurant Japengo Restaurant, and SWIM as well as more than 60 boutiques on site, Hyatt Regency Waikiki promises Hawaiian-style excitement paired with the warmth of authentic Aloha spirit.