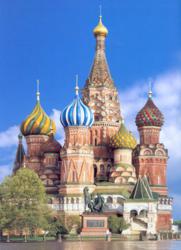 Russia is such a captivating destination filled with dynamic history, czar-scaled grandeur and popping night life
Albany, NY (PRWEB) December 19, 2012
Celtic Tours World Vacations is proud to unveil a new tour to Russia, 'Little Tour of Russia'. This tour offers a unique opportunity to visit Russia's most historic and beautiful cities: Moscow, Novgorod and St. Petersburg. This tour offers a relaxed pace and is perfect for those with limited time that still want to explore the mysteries of Russia.
This tour starts in Russia's cosmopolitan capital city, Moscow. Here travelers will get a chance to stroll through Red Square or take an optional Moscow by night tour, visit the Armory Museum, Moscow University, the popular Arbat shopping district and a visit the Russia's largest department store, GUM. After two nights in the capital city, travelers will visit Novgorod for one night, before finishing the tour with three nights in St. Petersburg.
"We are excited to introduce this new tour," states Sandra Thomas, Celtic Tours' Executive Director of Marketing and Sales, "Russia is such a captivating destination filled with dynamic history, czar-scaled grandeur and popping night life, for those who can keep up. We think it will be a great fit for our already robust line of European products."
Celtic's new 'Little Tour of Russia' offers a great blend of history and excitement for all types of travelers. This six night tour of Russia offers a relaxed pace of the highlights of this intriguing destination and is reasonably priced at $1798 pps (land-only).