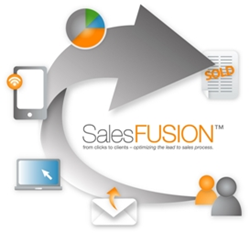 This new version ads powerful new event management tracking capabilities inside of Salesforce.com
Atlanta, GA. (PRWEB) December 19, 2012
SalesFUSION™ is the maker of SalesFUSION 360, an integrated sales and marketing demand generation platform. This week, SalesFUSION announced it has released its new integration pack for Salesforce.com on AppExchange. The new version (5.8) of SalesFUSION for Salesforce.com delivers fully integrated event management tracking inside of Salesforce.com.
SalesFUSION provides a complete marketing automation platform that includes email marketing, lead scoring & management, landing pages, website tracking, social marketing and event management. SalesFUSION has been an AppExchange partner for Salesforce.com since January 2007 and provides a mature, robust and easy-to-install integration for Salesforce.com users. Said Kevin Miller, CMO for SalesFUSION; "This new integration further sets SalesFUSION apart from other marketing automation vendors by directly integrating, in native Salesforce objects, online and offline event attendance metrics at the lead and contact levels. When you run events with SalesFUSION's FUSIONcast, all event attendee information is automatically appended to the lead & contact records inside of Salesforce. This new functionality will greatly improve how sales personnel can view and respond to event attendees."
The new release of SalesFUSION for Salesforce includes several updates including the "event tracking" object, a new object to open and view landing page response information at the lead or contact record level and an enhanced contact summary view that is accessed via the SalesFUSION marketing intelligence dashboard that shows the value of a lead or contact based on aggregate marketing interactions that have been captured by SalesFUSION.
The version 5.8 release of SalesFUSION can be accessed and downloaded directly from the Salesforce.com AppExchange. There are no pricing changes for the new version of SalesFUSION for Salesforce.com. The added features are part of SalesFUSION's standard implementation package.
About SalesFUSION
SalesFUSION 360 provides software that accelerates revenue by connecting sales and marketing with prospects at the moment they are ready to buy. This is made possible through the SalesFusion 360™ suite, which complements CRM applications by adding an on-demand enterprise lead management service. SalesFUSION 360 increases lead quantity, lead quality, and revenue conversion rates by integrating and automating the lead management process. An AppExchange partner since 2007, SalesFUSION is a trusted solution for Salesforce.com clients who are looking to improve their integrated marketing capabilities. SalesFUSION is known in the industry for providing great software backed by hands-on, personalized service.
Visit our site: http://www.salesfusion.com.