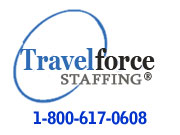 Many therapists used to sign up for short-term travel therapy jobs because they wanted to visit family, friends or see the country – now the choice is also about professional development.
Boca Raton, Florida (PRWEB) December 19, 2012
Rated one of the best jobs in 2012 by U.S. News & World Report, more physical and occupational therapists are turning to travel therapy jobs to enhance career opportunities, say recruiters at Travel Force. Demand for physical therapist careers is projected to increase 39 percent by 2020, adding 77,000 more positions to therapy job rolls, reports the Labor Bureau.
With an unprecedented number of baby boomers facing retirement in coming years, physical and occupational therapists are finding work in all four corners of the country. The top ten percent earn more than $100,000 a year and work in hospitals, rehabilitation centers, skilled nursing facilities and outpatient physician practices.
Though physical therapy jobs in travel continue to grow in popularity year-over-year, career consultants at Travel Force have noticed an emerging trend: more requests from mid-career professionals in search of diversifying their experience with disparate patient populations.
"Whereas at one time many therapists used to sign up for short-term travel therapy jobs because they wanted to visit family, friends or just see the country – which is still the case, more now are looking at physical therapist travel in terms of professional development," said Beth Beam, Regional Manager of Business Development for Travel Force.
Beam said not only will a doctorate degree soon be required to enter the physical therapy profession, sensitivities and techniques involved in treating patients from different cultures and backgrounds is paramount as millions more gain access to healthcare through the Affordable Care Act (ACA).
With U.S. News reporting the highest paid therapy jobs in Texas and California - and with Florida, Arizona, New York and New Jersey close behind, said Beam, the time is right for practitioners to get experience working with diverse patient populations as healthcare reform enters into law. The ACA includes numerous provisions explicitly intended to reduce health disparities based on ethnicity and race.
"High salaries will go to top educated therapists and ones who can communicate effectively with all types of patients. Practitioners raised and educated in the U.S. now need to think in terms of treating naturalized citizens from India, the Middle East, Asia, Africa and South America as part of their duty as a practicing therapist," Beam said, adding that those who speak two and three languages are increasingly marketable and an asset to urban healthcare providers.
For those considering a physical therapist career in travel, Travel Force Staffing experts suggest practitioners consider personal and professional needs, talk to travel therapists currently on assignment and find a reliable, experienced recruiter to learn about Physical Therapist Career options and a direct approach to marketing skills and qualifications.
"There are many reasons therapists choose to travel. Some want to save money by taking advantage of housing subsidies and health insurance benefits, while still others look to expand professional horizons, augment their work experience and look at career marketability as an ongoing process," Beam said.
About Travel Force
Physical Therapy Jobs staffing agency Travel Force Staffing supplies hospitals, skilled nursing facilities, home health and outpatient rehabilitation centers in all 50 states with physical and occupational therapists, speech language pathologists and other allied health practitioners. With more than 25 years of healthcare staffing expertise, Travel Force specializes in concierge service and support and promotes the use of green technologies in the procurement and on-boarding of allied health professionals.